Sandra Macgregor

bikeriderlondon/shutterstock.com
It's every safari-goers dream: to be an arm's length away from one of Africa's coveted Big Five. Just a few feet from our car, walking along the side of the road, seemingly without a care in the world, is a leopard. A very big, beautiful, nonchalant leopard. Inside the car, my sister, Sarah, and I are silent, as though the very sound of our breathing could cause the creature to flee back into the thick, tangled brush. I am certain the cat can hear my heart beat, which is now thumping as quickly and deeply as the African drums I heard at a concert back in Cape Town.
Each languid stride of the normally shy cat seems to be a gift. Back at Lower Sabie base camp where we've rented a rustic bungalow, I've heard many a story from other travellers about how the leopard remains the one animal on their must-see list that hasn't been checked off yet. This encounter with this elusive feline is the closest I have ever come to experiencing real magic.
 
Kruger National Park — Where you can see the Big Five
And magical is indeed the right word for such an otherworldly place as South Africa's Kruger National Park, where leopards walk on roadsides, elephants have the right of way and birds as colourful as gems shine as brightly as the African sun.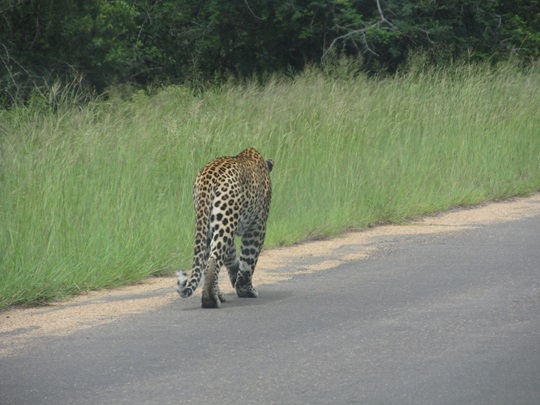 Sandra Macgregor
Suddenly, the leopard spots something in the tall grass and with one final glance over his shoulder he jumps back into the brush. Despite knowing how fortunate we are to have seen him, we want more — ah, we safari-goers are so selfish.
Luckily, Kruger is accommodatingly generous. Covering nearly two million hectares of land, it's one of the largest game reserves in Africa and offers an astonishing variety of wildlife, including over 500 species of birds, 114 reptiles and 147 different mammal varieties. It's also considered one of the best places in the world to view each of the Big Five: the lion, elephant, Cape buffalo, leopard and rhinoceros. But don't let these iconic offerings outshine Kruger's other denizens — cheetahs, hippos, giraffes, hyenas, wart hogs, zebras, a bevy of antelope species and many more animals all call this national park home.
 
Getting and staying there
Sarah and I had arrived a few days ago from Cape Town via Johannesburg International airport where we rented a car and then drove the five hours to Kruger. We were lured here by both locals' and tourists' tales of frequent, unparalleled sightings and the opportunity to do a self-drive safari at a very affordable price. Unlike the private game lodges that commonly charge anywhere from $500 to $2500 a night, Kruger is government-run. In an effort to be accessible to not just high-income tourists but the South African populace as well, it offers incredibly wallet-friendly accommodation options.
We're surprised to find the roads within the park so well maintained, and driving around the reserve is easy. In spite of the good roadways, traffic jams are frequent here — and boy are we glad! Being stuck in traffic takes on a whole new meaning when you find yourself surrounded by a herd of don't-you-dare-rush-us Cape buffalo, sauntering baboons or frisky zebras crossing the road. But if you ever do get tired of driving yourself around, fear not: each of the base camps has its own rangers who offer daily morning, sunset and night safaris. Just be sure to book ahead of time.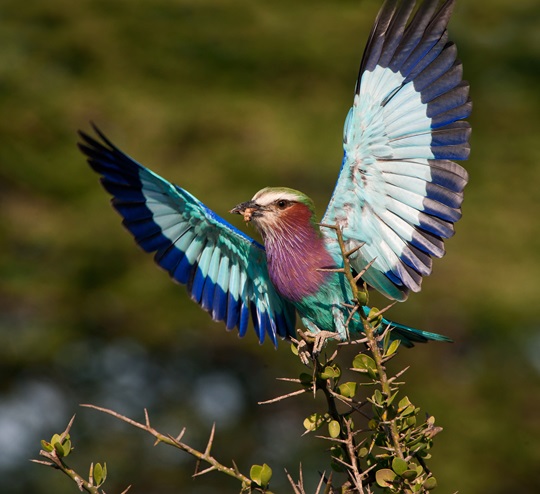 Sergey Uryadnikov/shutterstock.com
 
A birder's paradise too
While mammals get most of the attention, I was surprised to find just how much I enjoyed catching glimpses of Kruger's feathered inhabitants. With their resplendent plumage, the kingfishers, rollers and bee eaters put to shame any emeralds or sapphires I have ever seen in a jewelry store. Even the ungainly southern ground hornbill with his crimson wattle is enchanting and his reverberating, deep booming song seems perfectly at home among the roar of lions.
It's not often you experience so much beauty and danger in such close succession. At one point we see the remains of a zebra carcass and are reminded of just how much the struggle for survival can consume the lives of both prey and predator here. A hippopotamus emerges from behind some bushes and his docile stare belies his reputation as the most dangerous predator in Africa. For me, it's the built-like-a-tank rhinoceros that truly inspires fear, though I soon learn that the ferociousness of a rhino heading straight for your car is greatly undercut when the beast is peppered with a charming coterie of grooming oxpeckers.
 
Never pass a parked car
Back at our base camp we park and then head to the reception office. Here, guests will find a large map of the surrounding area where fellow animal enthusiasts mark key sightings. We make a note of where lions were seen and plan to head out tomorrow to see if we can find them. "Any words of advice for animal viewing?" I ask a ranger as he walks by. "Never pass a parked car," he says. "There's always a reason someone's parked at the side of the road. Be patient and watch."
Taking his words to heart, we have two of our best sightings the next day. Though we couldn't see anything at first, three stopped cars tell us something exciting must be happening in the brush to our left. No sooner have we pulled over when five lion heads pop up from the grass to stare back at their admiring onlookers. A couple of hours later, alerted once again by sidelined vehicles, we stop to scan the horizon for several minutes without seeing anything. It isn't until we spot a tiny hyena bounding over his littermates that we notice three hyena cubs and their sleeping mother in the ditch right beside us.
The generosity among the guests at Kruger is astonishing. It's not uncommon to have a car pull up alongside your own so a fellow safari sightseer can let you know that just 10 feet ahead to the left is a rhino or a hippo hidden in the bushes. One day, despite sitting beside a pulled over car for 15 minutes, my sister and I see nothing and decide to pull out to get back on the road. As we start to pass, the driver—who is in possession of the longest telephoto lens I have ever seen—waves frantically at us and rolls down his window. We do likewise and in a voice somehow between a shout and a whisper, he says the words every visitor to Kruger wants to hear "Cheetahs! Cheetahs!" He points to his left and adds, "They're in the grass! Just wait." And sure enough, not five minutes later, three cheetahs finally wake from their nap and sit up, waiting patiently as we snap what must be a thousand photos.
 
Communal braais and new friends
Evenings, back at camp, the comradery continues. Nights are for communal braais (the South African word for BBQ) and sharing tales of the day's adventures over beers. As the moon finally kicks the sun out of the sky and darkness descends, maps are pulled out to show new friends where coveted leopards or cheetahs were seen. What further makes Kruger special is that, unlike many luxury safaris and because the park is affordable, you're sure to meet as many locals as you will international visitors. Spending evenings swapping stories with South Africans means you're as likely to hear an account of a personal encounter with Nelson Mandela or what it was like to live during Apartheid as you are about a fantastic animal sighting.
As we head back to our bungalow to sleep, I think about how much being a part of Kruger, even for a short time, has transformed me in myriad ways but most notably regarding my fondness for felines. I had always thought of myself as a dog person, but despite a remarkable interaction with a hyena mom and her cubs, it's the cats that stole the show for me here. Thanks to incredible run-ins with a leopard, a pack of lions and some cheetahs, I just might see my way to becoming a cat person after all.
 
How to get there
We flew into to Johannesburg and rented a car at the airport and then drove the five hours to Kruger. For those less inclined to long drives on the wrong side of the road (they drive on the left side in South Africa and much of Africa), a popular option is to take a short flight from Johannesburg International Airport to Nelspruit (where you can also rent a car), which is then only one hour away from Kruger.
Camps at Kruger: There are 12 main camps spread throughout Kruger's nearly two million hectares, each with its own unique atmosphere and particular list of animals that you are most likely to see in the area. Each site contains a variety of accommodation types ranging from tents, to bungalows, to luxurious guest houses, and most have kitchens. Camps also have their own stores where you can buy provisions. Only some offer ATMs and Internet so be sure to check before you book. You can book directly on the Kruger website.
Activities: Many of the camps offer special activity options like ranger-led drives, guided walks and even mountain bike trails. There is even a 9-hole golf course at the Skukuza rest camp. Just be sure to book ahead as the activities fill up quickly.