Patrick Imbeau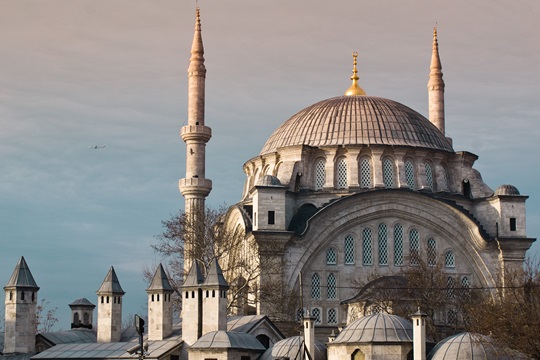 Istanbul
To say Istanbul has a rich history is like saying Rio has a nice beach. Istanbul is history written in stone. When you walk its streets, you're walking through the crossroads of dead empires — through Byzantium (established by the Greeks in the 7th century BC), Constantinople (the Christian capital of the Eastern Roman Empire) and the Ottoman Empire.  
Modern Istanbul is the largest city in Turkey and the fifth largest in the world. Straddling two continents, it's a beautiful mesh of European and Asian influences. As a tourist, you'll be amazed at how cultures overlap in every aspect of life in Istanbul. The cuisine, for example, is a mix of Balkan, Central Asian, Middle Eastern and Mediterranean influences, with a focus on local produce (the pomegranate is a particular favourite, showing up in salads and at juice stands).
The best place to start exploring Istanbul is Sultanahmet, where the amalgamation of east and west is most stark. There you'll find the Hagia Sophia, the Sultan Ahmed Mosque (commonly known as the Blue Mosque), the Basilica Cistern, the Hippodrome and the Topkapi Palace — not to mention many hammams (Turkish baths) and restaurants. The Hagia Sophia is Istanbul in miniature. For nearly 900 years, the building served as an Eastern Orthodox cathedral in Constantinople. After the city fell to the Ottoman Empire, the cathedral served as a mosque from 1453 to 1931. It's now a museum open to the public. Inside you'll see elements from each of its incarnations. Some of its most beautiful features are mosaics depicting Jesus, Mary and other Christian figures that were uncovered in 1849, and a large mihrab (a niche pointing toward Mecca, Islam's holiest city) where the cathedral's altar once stood. The extraordinary, tall domed ceilings are a fantastic feat of engineering and one of the best examples of Byzantine architecture still standing.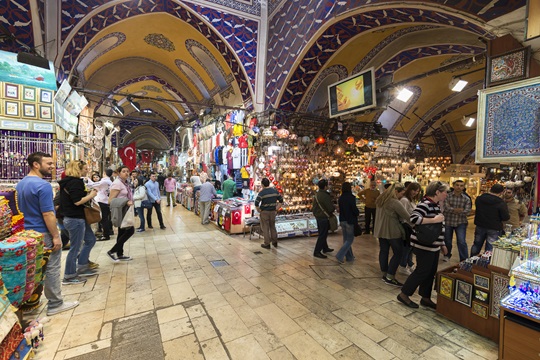 The Grand Bazaar Istanbul
Treasure-hunt at the Grand Bazaar
If you're interested in history — and also want to get some shopping done — jump on the tram and hit the city's 500-year old shopping centre: the Grand Bazaar. Be ready to negotiate: this vast public market — one of the largest covered markets in the world — haggling is king. The Bazaar boasts over 3,000 stores and sees 250,000 visitors daily. Be sure to set aside plenty of time to sift through the treasures in every kiosk — everything from leather and gold pieces, to belly dancing costumes, to ceramic souvenirs.
As you wander the city, you'll cross paths with any number of stray dogs and cats, most of them quite friendly and affectionate. Free-roaming cats and dogs have been part of Istanbul's culture for centuries. The Turkish government employs people to catch stray dogs, spay or neuter them, vaccinate them, treat them for any illness, tag them and release them back where they were found. Cats are not tagged but are treated with respect by locals because of the high esteem they enjoy in Islamic traditions. Needless to say, if you give the strays some leftover meat, the locals won't mind.
Exercise caution — but feel free to visit
In 2013, images of mass protests against commercial development in Istanbul's Taksim Square splashed across TV and computer screens around the world. More than 3.5 million people took part in the protests, some of which ended in violent confrontations with police. But the city remains quite safe for tourists.  
Canadians must obtain a visa to visit Turkey and tourists should take the same precautions they would in any large European city. Make sure your personal belongings, passports and other documents are secure at all times, exercise vigilance, follow the advice of local authorities and monitor local and international media. It's also wise to keep an eye on travel advisories; Turkey shares a border with Syria and Iraq and those border areas should be given a wide berth right now. But with 1,100 and 1,600 kilometres separating it from Syria and Iraq respectively, Istanbul remains a lovely oasis of calm for the Western traveller.