Laura Byrne Paquet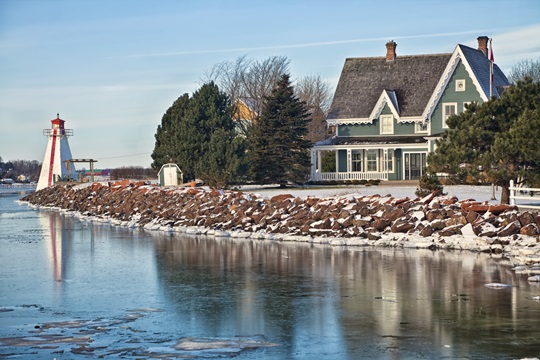 Charlottetown   V. J. Matthew / shutterstock.com
Years ago, I was walking along a street in downtown Charlottetown when I sneezed. From deep inside a shop whose front door was open to the breeze, I heard someone call out, "Bless you!"
That, to me, is Charlottetown and Prince Edward Island in a nutshell. It's the kind of place where traffic comes to a screeching halt if pedestrians even look like they're vaguely considering crossing the street. The kind of place where people ask, "Who's your father?" on the long odds that, perhaps, you're somehow distantly related. People are almost universally friendly and no one seems rushed.
In short, it's the perfect place for a relaxing vacation.
 
Charlottetown
If you fly, you'll likely start your holiday in Charlottetown, where you can catch a performance at the Confederation Centre of the Arts. Anne of Green Gables—The Musical is the world's longest-running annual musical theatre production, at 51 seasons and counting, but the centre offers a lot of other great programming, too. (I saw a production of Evangeline there that had me sniffling all the way back to my hotel.)
Enjoy shopping and, in the summer, free concerts at Peake's Wharf. Learn about Charlottetown's role in the early days of Confederation at Founders' Hall and Province House National Historic Site of Canada. And don't forget to sample one of P.E.I.'s most famous exports: Cows ice cream.
 
Speaking of food
Food lovers should plan to visit between mid-September and early October, when the Fall Flavours Culinary Festival takes place across the island. You can take a cooking class, attend a multi-course dinner, learn about craft beers and enjoy all sorts of other food-themed events.
 
Work off those great meals
With its many beaches and quiet roads, P.E.I. is a superb place to enjoy the outdoors. Learn to build a one-of-a-kind sandcastle with artist Maurice Bernard, who gives free beach workshops each summer. Play a round or two on one of the island's 30 golf courses. Cycle or walk a section of the 410-kilometre Confederation Trail, a former rail route that spans the island from tip to tip. The gradient never rises above 2%, so it's very manageable for most cyclists and walkers.
 
Family fun
If you're travelling with your kids, consider making Cavendish your base. This village on the island's north shore is known for the farmhouse that inspired Lucy Maud Montgomery's famous Green Gables (part of Prince Edward Island National Park). But families can also choose from a wide variety of other amusements, including mini golf, paintball and a water park.
 
If you go...
Summer is the best time of year to visit, as many rural attractions are seasonal. For more information, contact Discover Charlottetown or Tourism PEI.