Laura Byrne Paquet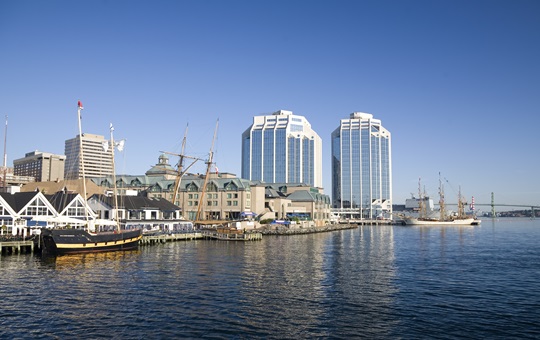 Halifax    V. J. Matthew / shutterstock.com
 
Halifax is a seafaring town. So to truly appreciate Atlantic Canada's largest city, you'd best get down to the harbour.
On the waterfront
Begin at the south end of the harbour, at the Halifax Seaport. As well as the city's cruise ship terminal, this development is home to the fascinating Canadian Museum of Immigration at Pier 21, on the site where many newcomers once arrived in this country by ship. The museum reopened in May 2015 after a major expansion that doubled its size and added two new exhibitions.
Follow the 3.8-kilometre, wheelchair-accessible Halifax Waterfront Boardwalk and pop into the Nova Scotia Centre for Craft and Design to browse for items made by local artisans, and the Halifax Seaport Farmers' Market for fresh foods sold by over 200 vendors.
Leaving the Halifax Seaport behind, keep walking north. Boat tour companies along the way offer sightseeing tours, dinner cruises and whale-watching trips. And just a block from the waterfront, you can take a 55-minute tour of the Alexander Keith's brewery, led by guides in 19th-century costume.
Returning to the boardwalk, keep going until you get to the Maritime Museum of the Atlantic, which delves into Eastern Canada's seafaring history and features displays on the sinking of the Titanic. You can also explore the CSS Acadia, Canada's oldest hydrographic (marine research) ship.
Your next stop is the Historic Properties, a collection of 18th- and 19th-century warehouses that have been converted into a popular hub of shops and restaurants. The boardwalk ends at Casino Nova Scotia Halifax, where you can try your luck at over 500 slot machines and almost three dozen gaming tables.
 
Taste the sea
Don't miss lobster in any or all of its multitudinous Halifax forms, from lobster roll and lobster with drawn butter to lobster poutine. But that's just the beginning. Bacon-wrapped scallops, seafood chowder…the choices are as varied as the local chefs' imaginations. In fact, a spot called Edna earned a place on en Route magazine's list of Canada's best new restaurants in 2014 with dishes like seared albacore with bok choy, enoki mushrooms and parsnip puree.
 
Encounter the past
History buffs won't want to miss the Halifax Citadel National Historic Site of Canada. A fort has stood on this hill since shortly after the city's formation in 1749. The current star-shaped fortification is actually the fourth Citadel, which took 28 years to build and was finished in 1856. A wide range of activities, from ghost tours to the Soldier for a Day program, brings the site's history to life.
 
If you go
Spring and summer are the best times to visit; fall can be rainy and winter often brings heavy snowfall. For more information, contact Destination Halifax.