Laura Byrne Paquet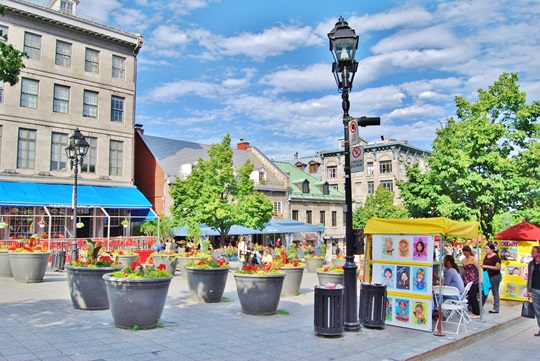 Montreal ProDesign studio / shutterstock.com
 
Montreal seems to have a festival for just about every interest, whether you like folk music, foreign films, fireworks or anything in between. Some, like the Montreal International Jazz Festival, are famed worldwide, while others are small neighbourhood events designed simply to get people out on the streets.
In fact, the city has a somewhat European sensibility, where much of its social life takes place in public—whether in sidewalk cafés in summer or around blazing braziers in winter.
A convivial street life is just one of the many attractions of Quebec's largest city. Here are a few other ways to immerse yourself in Montreal's joie de vivre.
 
Dine like a king
With nearly 65 restaurants per square kilometre, Montreal has few competitors in North America in terms of dining choices. Eating out is almost a competitive sport, and skilled chefs are treated like rock stars. Plan your visit around Montreal Restaurant Week (MTL à Table) each fall or Montreal en Lumière in February, when you can sample all sorts of dishes at discount prices.
 
Shop, shop, shop
Many Montrealers are exquisitely fashionable. To follow in their footsteps, check out the flagship store of Quebec-based retailer Simons on Ste. Catherine Street. The first floor features affordable, trendy clothes; the styles are more classic and more expensive on the upper floors. Years ago, I bought a trench coat here for $25 that still garners admiring comments.
Other neighbourhoods worth exploring include Plateau Mont-Royal for home décor, Mile End for locally designed fashions and the Golden Square Mile for art galleries. And don't miss the Jean Talon and Atwater markets for Quebec cheeses, fresh pastries, local produce and more.
 
Delve into history
Founded in 1642, Montreal has no shortage of historic sites. Many are clustered along the St. Lawrence River in aptly named Old Montreal. Learn about the city's past at the Montreal Museum of Archaeology and History. Raise a glass at Auberge Saint-Gabriel, which claims to have received North America's first liquor licence (in 1754). And choose from at least half-a-dozen atmospheric hotels located in heritage buildings, such as Le Saint Sulpice or the Hotel Place d'Armes.
 
Root for the home team
Few pro sports teams attract as much fervour as the storied Montreal Canadiens. If you're in town during hockey season, don't miss the chance to cheer them on (or cheer against them, if you dare). But hockey isn't the whole Montreal sports story: come summer, you can also check out the CFL's Alouettes or get your racing fix at the Montreal Grand Prix. And that brings you right back outdoors, where Montrealers live large, all year long.
 
If you go
Montreal is lively year round; in winter, bring your woollies. For more information, contact Tourism Montreal.