Laura Byrne Paquet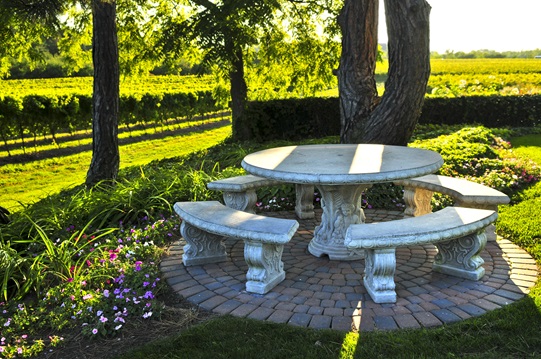 Some of my most vivid childhood memories involve Sunday drives to the Niagara area with my parents, to buy peaches or cherries at roadside stands. These days, dozens of wineries have sprung up among the orchards. In fact, there are two distinct winemaking regions in Niagara: the Niagara Escarpment and Twenty Valley, home to some 50 wineries; and Niagara-on-the-Lake, where at least three dozen more establishments are clustered.
Clearly, you can't see them all — unless you have weeks to spare and an iron constitution — so you will need to focus. Many visitors plan their trip around a particular community, type of wine, event or tour. Here are some suggestions.
 
Choose a community
Niagara-on-the-Lake is very cute — so much so that Communities in Bloom once named it the Prettiest Town in Canada. Along with countless B&Bs, it is home to several excellent inns. The landmark Prince of Wales Hotel, which dates back to 1864, is one of three posh local spots run by Vintage Hotels and is close to shops and restaurants. Theatre buffs can catch a play by George Bernard Shaw or one of his contemporaries at the Shaw Festival, a few blocks away.   
Other popular bases of operations include the small communities of Beamsville, Jordan and Vineland — where you'll find several popular cooking schools — as well as Niagara Falls, home of Canada's most famous cataract.
 
Focus on a varietal
You could plan a route that lets you sample several wineries' take on a particular type of grape. Cool-climate wines of all sorts are made across the Niagara region, but perhaps its signature vintage is icewine. A richly sweet dessert beverage, icewine is made from grapes such as Riesling and Vidal Blanc that have been allowed to freeze on the vine. However, the grapes can't get too cold, which is why few regions can make it consistently and successfully.
 :
Celebrate the grape
Speaking of icewine, there are separate icewine festivals in Niagara-on-the-Lake and Niagara Falls each January. Later in the year, you can plan your trip around events such as the Niagara New Vintage Festival (June), the International Cool Climate Chardonnay Celebration (July) or the Niagara Wine Festival (September).
 
Leave the driving to others
If you're going to be sipping, you shouldn't be driving. Fortunately, Niagara is home to numerous wine tour companies offering packages for just about every taste, whether you want to be chauffeured about in a Mercedes, combine your tour with a VIA Rail trip from Toronto or include a chocolate factory on your route.
 
IF YOU GO
By car, the Niagara Escarpment and Twenty Valley region is two hours from Toronto; add another half hour to reach Niagara-on-the-Lake. For more information, visit Wine Country Ontario's website.