Moira White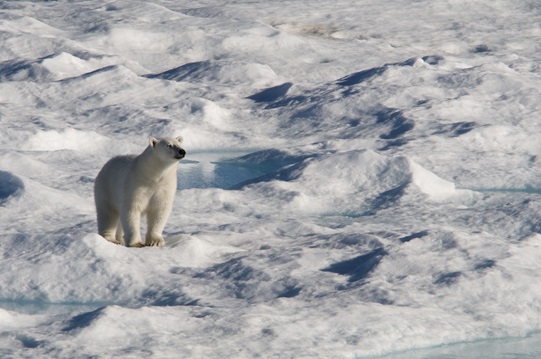 Ottawa artist Marianne Feaver discovered first hand the awe-inspiring beauty of Canada's newest territory. Three years ago, she travelled aboard a scientific ship through the Northwest Passage photographing and painting scenery unlike any other she had experienced. En route the group sea kayaked amid narwhals and spotted 33 polar bears. She calls it "the trip of a lifetime."
 
Canada's largest and least populated area
Nunavut is Canada's third territory, created in 1999 from part of the Northwest Territories. At more than 2 million square kilometres, it's Canada's largest area and its least populated. That means new landscapes, birds, fishing spots, and hiking trails are waiting to be explored. It's been home to the Inuit people for more than 4,000 years. The Nunavummiut are proud to share their story and traditions.
 
Parks, Sanctuaries and Wildlife Preserves galore
As if pristine terrain were not enough, Nunavut boasts 4 national parks, 15 territorial parks, 18 wildlife sanctuaries, and 4 heritage rivers. With a guide, you can view nesting sites for migratory birds; venture on the water to see polar bears, seals and whales; or visit archeological sites with stone structures and artifacts thousands of years old. You can camp under the midnight sun, hike through breathtaking terrain and try your hand at fishing in a heritage river. For more information visit Nunavut Parks and Special Places.  
 
Trophy fish
Have you dreamt about catching the big one? Then Nunavut is your place! Many species of fish — including Arctic Char, Lake Trout, Northern Pike, and Arctic Grayling — abound in these cool, clear waters. Specialized fishing lodges provide guides, travel and accommodation for an unforgettable experience. Many community outfitters and guides can take you to their special fishing spots. And don't think only about summer. Spring can be a great time for ice fishing.
 
Cruise ships and special-interest trips
Cruises? Wildlife? Bird watching? Nunavut has it all. Muskox, caribou, narwhals, seals and grizzly and polar bears live here and so do opportunities for seeing unusual birds, animals and sea life. Accommodations range from tents on the tundra to very comfortable lodges to luxurious berths aboard cruise ships.
For example, Bathurst Inlet Lodge offers excursions to photograph wildflowers under the midnight sun and spot song birds in the early morning.
 
Best times to visit
Most people think of summer for travel to Nunavut. That's true if you're visiting aboard a cruise ship, but travel in the spring and fall can be equally rewarding. The sun shines for 12 hours daily in March — and increases every day. The angle of light, warming days and lack of bugs make spring travel particularly enticing. Day trips include dog sledding, cross-country skiing, beluga watching and wildlife spotting.
And if you need another reason to consider the shoulder seasons, imagine the northern lights that dance once the sun sets. They're unforgettable.
 
The fine print
Contact Nunavut Tourism for more information. All visitors are required to take out additional medical insurance.