Laura Byrne Paquet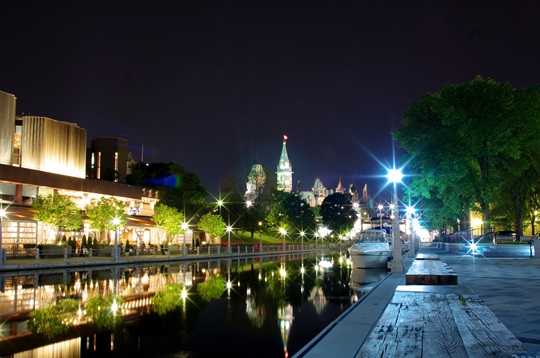 Ottawa - cvrestan / shutterstock.com
I moved to Ottawa at 18 to attend Carleton University, but I never intended to stay after graduation. Over 30 years later, I still call the city home, and many of the reasons I stayed are reasons you should consider a visit.
 
Accessible and lovely
First of all, Ottawa is beautiful. Since there are two rivers and a canal, you're never far from waterfront.
In university, my friends and I called a particular bend in the Rideau Canal the "Ooh Ah Corner." Skating north from Carleton, we would come around it and suddenly see two of the city's prettiest sights—Parliament Hill and the turrets of the Fairmont Chateau Laurier Hotel—flanking the waterway. Especially at night, when the buildings are illuminated, it never failed to make us say, "Ooh. Ah."
Second, Ottawa is manageable. Many popular attractions are within walking distance or a short cab ride of each other.
Third, it punches above its weight. Thanks to its status as the nation's capital, it is rich with cultural assets other cities of its size can only envy, including the National Gallery of Canada and the National Arts Centre.
And fourth, it's outdoorsy. You can walk or cycle along 180 kilometres of recreational paths. You can swim at several beaches within the city limits. And the entrance to sprawling Gatineau Park—361 square kilometres of lakes, hiking trails and deer—is just a 15-minute drive from Parliament Hill.
Convinced? Read on for more tips.
 
What to see
Parliament Hill naturally tops many visitors' to-do lists. Get your bearings with a free tour, during which well-trained guides point out both historic spots and quirky details. If you'd like to watch the hurly-burly of Question Period, contact your MP well in advance of your visit to request free tickets. Summer brings two added attractions: the stirring Changing of the Guard ceremony each day, and a fun sound-and-light show exploring Canada's history each evening.
Nearby, the ByWard Market has been welcoming shoppers and diners for over 150 years. Chat with farmers selling fresh herbs and veggies, browse for fashions by local designers, and enjoy a great restaurant meal.
One of the city's newest attractions is also, paradoxically, one of its oldest: Lansdowne Park, a fairground and gathering point since Ottawa's early days, recently received a major facelift. TD Place Stadium—home to the Canadian Football League's Redblacks and the North American Soccer League's Fury—has a gorgeous new south façade, and the rest of the property now features shops, restaurants, a large movie theatre and more.
Those are just a few of the reasons I stayed—and why you should come visit.
 
If you go
Ottawa is great to visit year round; however, summers can be humid and winters cold. For more information, see Ottawa Tourism.