By Laura Byrne Paquet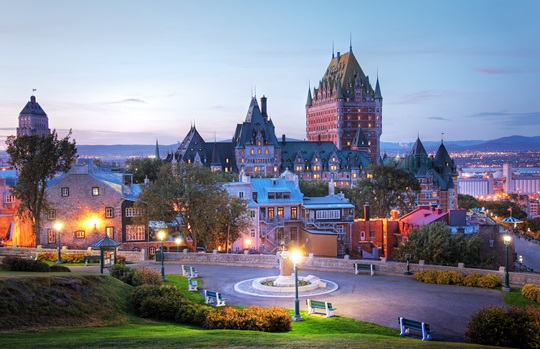 Quebec City Almanino / shutterstock.com
Little girls in plaid uniforms spill out of a grey stone building onto narrow, tree-shaded rue du Parloir and rue Donnacona. Above them, steeples pierce the sky; around them are city walls dating back hundreds of years.
It seems like a timeless scene…until the children scamper to their waiting parents, who are sitting in SUVs checking their email, as they await the end of another school day at L'École des Ursulines.
That daily scene encapsulates the enduring charm of Quebec City. On the one hand, the city is redolent with history. There are cobblestone squares, tiny chapels and at least one vintage cannonball embedded in the roots of a tree.
But Quebec City is no museum piece. It's a living, breathing, evolving city where you'll find some of Canada's most celebrated restaurants and boutique hotels. Come peek inside—and outside—the walls with me.
 
Fine food
At Laurie Raphaël restaurant, chef, author and television host Daniel Vézina recently passed the baton to his son Raphaël, but the elder Vézina continues to teach cooking classes at the restaurant's school and to extol the virtues of regional ingredients.
Celebrating a romantic occasion? It's hard to surpass the elegant setting at Le Saint-Amour, where an indoor garden topped by a 35-foot stained glass ceiling holds pride of place. The food lives up to the surroundings, too; French-born chef Jean-Luc Boulay has won numerous awards, including the Governor-General's Award in Celebration of the Nation's Table in 2010.
That's just the beginning. You can sample traditional fare like tarte au sucre (sugar pie) at Aux Anciens Canadiens, soak up the sun on a restaurant patio along the Grande Allée or sip a café au lait in one of countless tiny cafés.  
 
Hotels with flair
Quebec City is rich with heritage architecture, and hoteliers have been quick to capitalize on it to create some of Canada's most beautiful hotels, such as Auberge Saint-Antoine (ranked Canada's top city hotel by Travel + Leisure in 2012) or Hotel Le Germain-Dominion, operated by a renowned hotel company based in the city.
Smaller inns and B&Bs are scattered throughout Quebec City, giving you lots of choices if your dream vacation involves waking up in a four-poster bed in a 300-year-old room before tucking into croissants and hot coffee for breakfast.
 
A year-round destination
It can't be denied that Quebec City is frosty in the winter. No worries: the locals shrug it off with one of Canada's best winter parties, Carnaval. Come summer, the city lights up with celebrations like the Festival d'été de Québec (the country's largest outdoor music event) and the New France Festival.
 
If you go
For more information, see Quebec City Tourism.