Laura Byrne Paquet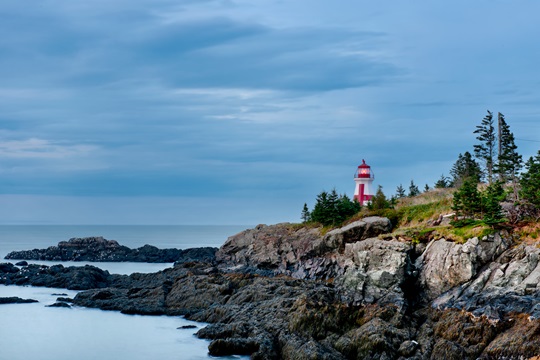 East Quoddy Head Lighthouse, New Brunswick, Paul Reeves Photography / shutterstock.com
Quick—what's the largest city in New Brunswick?
If you said Saint John, you're right, but only by a hair. According to the 2011 census, it tops Moncton's population of 69,074 by fewer than 1,000 people.
And here's the kicker: neither of them is the capital. That honour goes to the province's third-largest city, Fredericton (population 56,244).
One of the great things about visiting New Brunswick is that all three cities are within an easy drive of each other, so it's easy to get three distinct experiences in one trip.
 
Unique landscapes
Visitors to Saint John often head straight to one of the city's most famous attractions, the Reversing Rapids, where the powerful Bay of Fundy tides change the direction of the Saint John River roughly twice a day.
Saint John is also within the Stonehammer Geopark, North America's first geopark. What is a geopark, you ask? It's a region that UNESCO has determined has international geological significance. In the case of Saint John, you can hike, kayak or even zipline among rock formations dating back almost one billion years, often studded with fascinating fossils.
 
Bilingual culture
Ninety minutes northeast of Saint John, Moncton is one of Canada's most bilingual cities. That heritage is on full display each spring during the Frye Festival, the largest literary festival in Atlantic Canada, which offers a diverse slate of readings and workshops in both French and English.
For an unforgettable dinner straight out of Mad Men, book a table at The Windjammer restaurant, where maître d' Frédéric Mazerolle has been presiding over a cozy collection of panelled banquettes since the late 1980s. (Ask him to share the recipe for the restaurant's delicious macerated blueberries.)
And while Saint John has its Reversing Rapids, Moncton has Magnetic Hill, where your car appears to roll up an incline.
 
Artistic flair
Did you know that Fredericton—two hours from Moncton and 75 minutes from Saint John—is home to Atlantic Canada's most valuable art collection, housed at the Beaverbrook Art Gallery? Paintings on display include works by Salvador Dali, Thomas Gainsborough, John Constable and Emily Carr.
Perhaps because it is also the site of the New Brunswick College of Craft and Design, Fredericton has a surprisingly large number of art galleries, jewellery designers and funky clothing boutiques. If you get inspired, you can try your hand at everything from pottery to silk-scarf painting during a learning vacation program called edVentures, held each July.
 
Beyond the cities
Head out from the three main cities to discover Acadian culture along the northeastern coast, go fishing for striped bass and salmon along the Miramichi River or enjoy sweeping views in Mount Carleton Provincial Park.
 
If you go
For more inspiration, see www.tourismnewbrunswick.ca