by Holly Lake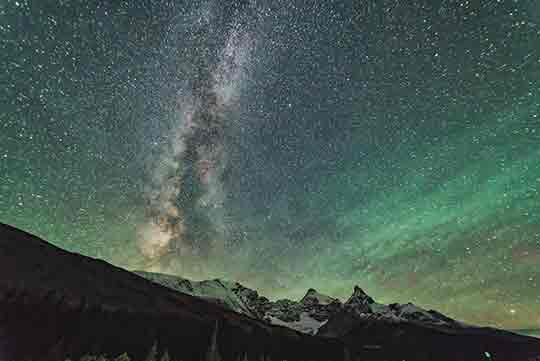 Source: Shutterstock
It's not always easy to love winter in Canada — especially on the days when you're digging yourself out from under it.
Cheer up! We're back with another list of terrific domestic destinations for short trips that can help you learn to embrace our coldest, darkest season.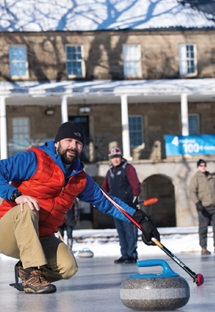 Source: Fredericton Tourism
Fredericton FROSTival
"I always wanted to do an event around curling and beer," says Lloyd Chambers, co-founder of the Fredericton Craft Beer Festival and one of the guiding lights behind the NB HopSpiel. "When we started researching it, it all fit together."
The HopSpiel is part of the Fredericton FROSTival, Atlantic Canada's largest winter celebration, which kicks off Jan. 18 and spans three weekends in New Brunswick's capital. It takes a hardy soul to curl outdoors in a town where winter lows can hit minus 30°C, but there's a tradition to uphold here: British soldiers were curling in the Officers' Square in the Garrison District way back in the 1800s.
Sixteen teams of locals and visitors — including some from as far away as Maine — make for a good social mix, both on the ice and at the outdoor beer garden.
"It's competitive enough for the serious curlers, but not to the point that those who don't curl (can't) have fun. Let's say it's semicompetitive,"
Curling not your thing? Take in an oldfashioned skating party, try some SnoGa (yes, that's yoga in the snow), a moonlight snowshoe hike, a sliding party or a campfire sing-along.
When you've had your fill of the chill and need to thaw out, dance the cold away at the Shivering Songs Festival. A mix of songwriters and storytellers, it hosts internationally renowned artists in rustic and historic spaces throughout the downtown from Jan.18-21.
Also happening during the FROSTival: Dine Around Freddy, an event that sees the city's best restaurants offer three-course meals for $31.
More information at www.frostival.ca.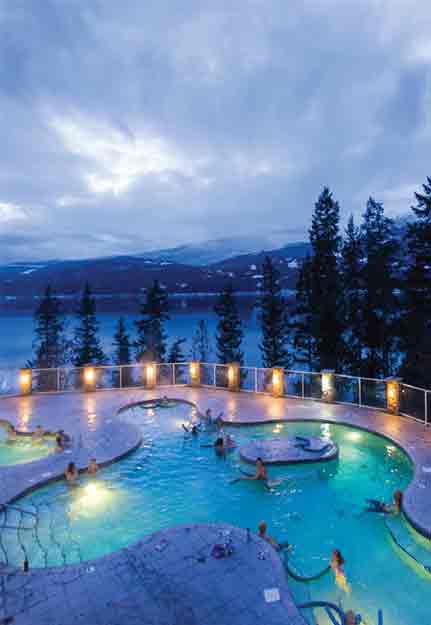 Source: Destination BC/Steve Ogle
The Powder Highway
Ski. Soak. Repeat. Doesn't sound like a bad way to spend a few days, does it?
When you travel the Powder Highway in southeastern British Columbia, you can ski a different resort and soak in a different hot spring every single day.
This one-of-a-kind road to winter threads its way through the Kootenays, home to more than 75 ski operators on more than three million acres, including eight alpine ski resorts, backcountry lodges, cat-ski and heli-ski operators and nordic ski clubs. The district sees an average annual snowfall of 60 ft. — including the dry, fluffy 'champagne' powder the area is celebrated for.
"We have the highest concentration of ski product anywhere in the world," says Shannon Harrison of Kootenay Rockies Tourism.
The ski resorts are just minutes away from their small mountain communities and, mid-week, lift lines are pretty much non-existent. (Another perk of retirement.)
Heli-skiing isn't everyone's cup of tea, but the district has plenty of hills for less experienced skiers, including three smaller mountains in Elkford, Nakusp and Salmo.
"They're close-knit community mountains and have wonderful camaraderie with each other and the locals," Harrison says. "It's old-school skiing."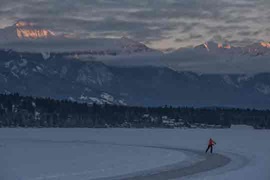 Source: Destination BC/Kari Medig
And when you get tired of boots and bindings, you can head to the Lake Windermere Whiteway — at 34 km long, the world's longest skating path. The groomed track runs all the way around the lake, connecting Invermere and Windermere, near Panorama Mountain Resort. There are also tracks for crosscountry skiing and skate-skiing, and you can snowshoe and fat-bike alongside.
And let's not neglect the après-ski. Four wineries, 14 craft breweries, a cidery and several distilleries dot the Powder Highway. Several resorts boast their own hot springs — the most famous being the Radium Hot Springs — but along the shores of Arrow Lake between Revelstoke & Nakusp, you'll find the cascading pools at the Halcyon Hot Springs Village & Spa.
The Ainsworth Hot Springs are 45 minutes from Nelson, and at the Fairmont Hot Springs you'll find Canada's largest hot spring pool.
At Halfway River Hot Springs, water bubbles directly out of the hillside into a natural pool along the river. You can drive there, but if you're feeling ambitious, you can park on the highway and make the 11 km trek in on snowshoes, with a warm soak in a natural stone grotto as your reward.
At the Lussier Hot Springs in Whiteswan Provincial Park, pools of hot spring water collect in a rock formation next to a rushing river. "It's beautiful," Harrison says. "You can take the plunge into the river, which is ice cold, and then back into the hot springs again."
Find more information on where to ski, soak, sip and stay atwww.kootenayrockies.com.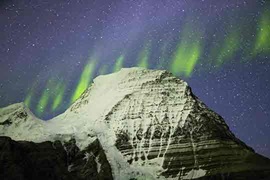 Source: Shutterstock
Jasper after dark 
Jasper National Park isn't the best place to count your lucky stars. You could be  there all night and still not come close to counting them all.
Jasper is a 'dark sky preserve', meaning it limits its use of outdoor artificial light to reduce light pollution. Jasper received the designation in 2011 from the Royal Astronomical Society of Canada. One of 17 dark sky preserves in the country, it spans 11,000 square kilometres and is the second-largest preserve in the world.
Here you can see things visible from very few places on Earth. "We've had views of the ice caps of Mars and the rings of Saturn setting over the mountains at high magnification," says Peter McMahon, manager of the Jasper Planetarium.
"We've also seen a supernova as it appeared to explode in a galaxy — 20 million light years away."
Many people come for the Northern Lights — and they never disappoint. "You have a better chance of seeing things like the Milky Way along with the aurora when it appears," McMahon says. "We've seen an auroral display that lasted nine days and included … domes of green, pink, orange, purple and blue light."
You can make the most of a stargazing trip to Jasper with an evening of snowshoeing, a night hike, a Columbia Icefields stargazing tour or a visit to the planetarium's heated dome. Dark sky adventures run year-round, but fall and winter are the best times to visit.
"Winter skies offer some of the most amazing telescope objects we're able to show people, such as the Orion Nebula… and countless galaxies," says McMahon.
To pass the daylight hours, you can go sledding in the mountains, explore ice canyons, take wildlife and photo tours, or ride a SkyTram up to the top for incredible mountain views.
You can also ice-climb, snowshoe and cross-country ski, and plenty of powder awaits at Marmot Basin. Be sure to have  dinner at the mid-mountain restaurant after the hill closes for the day.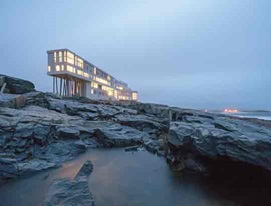 Source: Fogo Island Inn
The seasons of Fogo Island
Fun fact: The Flat Earth Society of Canada believes Fogo Island is one of the four corners of the Earth. It's not hard to see why.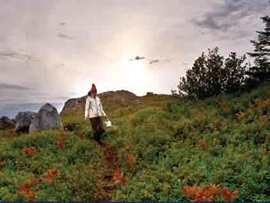 Source: Fogo Island Inn
From the comfort of your room in the Fogo Island Inn — on one of the largest of Newfoundland's offshore islands — you can look due north over a limitless ocean, with a book in your hand and a crackling log fire at your side, and imagine that you're sitting at the very edge of the world.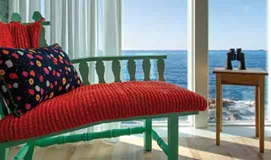 Source: Fogo Island Inn
Locals say the island's weather is so varied that it feels like seven seasons, not four — but its most spectacular season is early spring, around March, when the pack ice sliding down from Greenland pushes through to Fogo's doorstep on the back of the Labrador Current. 
"It's a gorgeous, majestic season," says Melanie Coates, the Inn's director of marketing and business development.
"There's the crunch and grind of the ice out on the bay. Even the sounds of silence are quite mesmerizing.
"Every room has a view of the most powerful ocean on the planet."
The Inn has a deep connection to the local community and its people. Through its 'community host program', guests are matched with locals based on their interests and backgrounds. 
A visiting architect, for instance, might be paired with a Fogo builder who worked on the Inn or helped make its furniture.
"They're unscripted and they give you a greater sense of why this Inn is here,"  Coates says.
Because most locals have built their homes close to shore, almost everyone also has a cabin inland.  That means endless opportunities for ice fishing, skating and snowmobiling.  The Inn organizes cabin visits and outings for travellers.
"There's nothing like some ice fishing with a boil-up in the woods afterwards, with tea and a partridgeberry tart or fishcakes," Coates says.
On Valentine's Day weekend, the 'Love the Birds' event sees Memorial University biologist Bill Montevecchi take guests on birding tours.
In late May and June, iceberg season gets underway. The Inn has a boat that can circumnavigate bergs — but you can easily watch these ice mountains drift past from your own room.
The island is a hiker's paradise. Andrea Laurin, an empty-nester from Ottawa who visited with her husband, says she loved the sense of having the place all to herself.
"It was just that sense of aloneness and being comfortable with that … not afraid, but the sense of wildness," she says.
"All you can see is the water. The next thing you're going to hit is Ireland. It really feels like you're on the very edge of Canada. There's no one around. It was truly so beautiful."
 
For more information, visit fogoislandinn.ca.


THE CANADIAN PRESS/Jeff McIntosh
NHL100 Classic
One of the very first National Hockey League games took place in Ottawa on Dec. 19, 1917. The Ottawa Hockey Club and the Montreal Canadiens faced off.
The Habs won 7-4.
A century later, the Habs and the Ottawa Senators are about to do it all again in the nation's capital, in the great outdoors in deep December. Hope they bundle up.
The 2017 Scotiabank NHL100 Classic is set for Dec. 16 at Lansdowne Park. The football stadium is being converted for the occasion to an open-air hockey arena for nearly 35,000 people.
This Classic also marks the League's centennial and coincides with the Senators' 25th anniversary and the Stanley Cup's 125th birthday.
"I can think of no better place to cap off the centennial celebrations than right here in Ottawa with an outdoor game," said Senators owner Eugene Melnyk.
"It will be an honour to try to recreate that very first game."
The NHL has held 22 outdoor games and the fresh-air experience has turned out to be a hit with fans.
For more information on the Classic, visit www.nhl.com/fans/nhl-centennial/nhl-100-classic.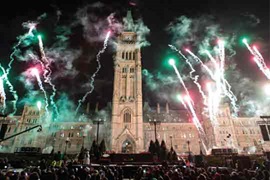 Source: THE CANADIAN PRESS/Justin Tang
You can't hit the ice with the pros — but while you're in the nation's capital you can lace up and take a spin on the lawn of Parliament itself. Canadian Heritage is working with the Ottawa Senators and the Bell Capital Cup tournament to build the first ever NHL-sized temporary skating rink on the Hill — part of the closing events for the Canada 150 celebrations.
The rink is set to open on Dec. 7 — which happens to be the opening date of the annual Christmas Lights Across Canada show, featuring music, lights and an official opening ceremony with a pyrotechnic display. The rink will remain open until Dec. 31.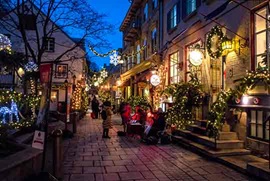 Source: Shutterstock
Quebec City's season of light
Finally, we can't talk about winter travel in Canada without mentioning Christmas — and nobody does the season better than Quebec's capital. Old Quebec is always a lovely place for travellers to putter and stroll, but once the snow falls and the decorations come out, its Old World charm is on full display. From Notre-Dame-des-Victoires Church in Place Royale to the end of Rue du Petit-Champlain, the city is a blaze of light in the winter's dark.
Across from city hall, Place de l'Hôtel-de-Ville brims with all things Christmas. With the Boutique de Noël just down the street and Notre-Dame de Québec Basilica-Cathedral nearby, this public square has the season cornered. Be sure to check out the German Christmas Market, which is marking its 10th season this year. It runs from Nov. 23 until Dec. 23. (The best part? It's free.)
Don't miss a chance to warm up in the lobby of the Fairmont Le Château Frontenac, the world's most photographed hotel. And if you're not tired after an evening of exploring the loveliest Christmas scenery in North America, head on over to the toboggan run on Dufferin Terrace at the foot of the Château. It reaches speeds of up to 70 km per hour and has been whipping people down the hill for more than 100 years now.
 
For more information, visit  www.quebecregion.com/en/
Happy travels!
---
The full article appears in Sage Winter 2017. Federal Retirees members receive Sage magazine, our national retirement lifestyle and advocacy magazine, for free. Login now to see the full issue.  To learn about the benefits of membership, visit our preferred partners page.