Laura Byrne Paquet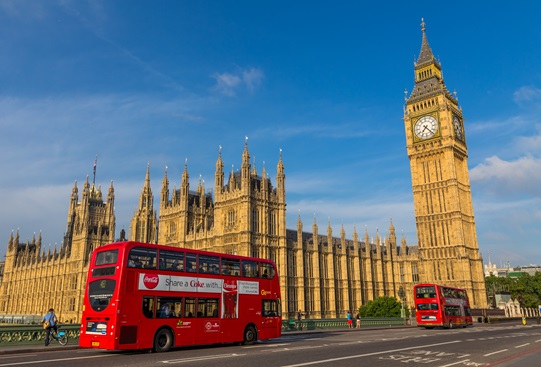 London
Everyone seems to carry around their own iconic mental image of English history, shaped by everything from Chaucer and Charles Dickens to Mr. Darcy and Downton Abbey. For some people, it's the dreaming spires of Oxford or the mountains of Wordsworth's idyllic Lake District; for others, it's Piccadilly Circus on D-Day. Book a plane ticket to England and you may find yourself time travelling almost as easily as that quintessential English hero, Dr. Who.
 
Through the centuries
Whatever era inspires your imagination, you can find a place to immerse yourself in times past.
Most fans of ancient history know about Stonehenge, but did you know you can also visit the 4,500-year-old Duddo Standing Stones in Northumberland? In the same region, you can see 5,000-year-old rock art and the remnants of Lordenshaws, an Iron Age fort.
If valiant knights and towering castles are more to your taste, you'll be spoiled for choice. The romantic ruins of Tintagel Castle in Cornwall are linked to the legend of King Arthur, while pristinely preserved Windsor Castle near London has been a royal residence for over 900 years.
Perhaps you prefer the Georgian and Regency eras? Head to Bath, where you can admire numerous 18th-century townhouses, squares and bridges, and pretend you're a character in a Jane Austen novel.
For a glimpse into the Victorian era, visit Manchester, which by 1840 was home to huge, prosperous cotton mills — and vast, distinctly non-prosperous slums. Today, you can take all sorts of walking tours that illuminate the city's 19th-century history, both good and bad.
Finally, to see how domestic life has evolved over four centuries of English history, I highly recommend the Geffrye Museum in London, where 11 rooms have been carefully decorated to reflect different time periods from 1600 to the present.
 
Speaking of London…
The earliest-known archaeological remnants in the London area date to 4000BC, but the city itself was founded by the Romans around 50AD. As a result, there's plenty of history to discover here. Don't-miss sites include the Tower of London, dating to 1078, where you can see the Crown Jewels on display; Buckingham Palace, home to the Queen, where you can tour the state rooms; and the vast British Museum, where you can view world-famous treasures like the Rosetta Stone.
I'm far from a military history buff, but one of my favourite museums in London is the Churchill War Rooms, the underground bunker from which Winston Churchill and his cabinet ran the country during the Second World War. In this atmospheric spot, you can almost imagine bombs raining down overhead during the Blitz—and imagining is quite enough for me, thank you very much.
 
If you go
For more information, go to visitengland.com