Laura Byrne Paquet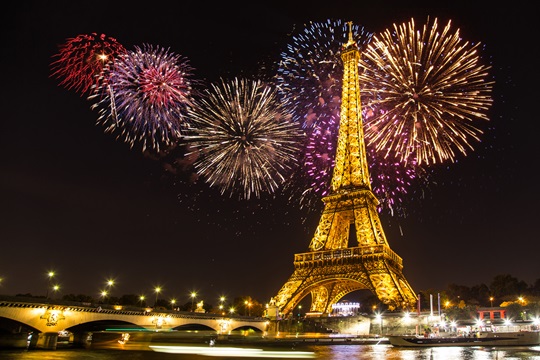 The nursery school menus fascinated me.
Every morning, I would stroll down the residential side street in Paris's 14th arrondissement where my husband and I had rented a vacation apartment. I'd pass the wine shop, the bakery, the small supermarket, the antiques store selling dusty LPs of dubious value, and the restaurant where Ernest Hemingway supposedly met F. Scott Fitzgerald for the very first time.
Around me were women in sleek suits and high heels — and the odd man, also in a sleek suit — with small children clutching their hands. As they climbed the stairs to the nursery school near the end of the block and disappeared through the main doors, I would discreetly glance at the latest lunch menu, posted in a small glass case near the entrance.
One day, if I recall correctly, the tots were set to dine on goat cheese and braised lamb, with not a chicken nugget in sight.
That, among other things, is why I love France.
 
The City of Light
If you haven't been to France before, do start in Paris. It truly is as lovely as everyone says. And here's a little secret: that infamous Parisian snootiness is a complete hoax, at least in my experience. I think it's a rumour Parisians themselves started in an attempt to stem the tidal wave of adoring fans who, at the height of the summer tourist season, threaten to drown the city with love. Almost every Parisian I've ever met has treated me politely and kindly.
You could easily spend a few solid weeks exploring even a decent selection of the museums, galleries, shops, restaurants, parks, theatres and historic sites that Paris has to offer. If time is short, at least make sure to see the artistic masterpieces at the Louvre, take an evening boat cruise down the Seine and savour at least one pull-out-all-the-stops, multi-course meal. (To keep your budget in check, find out whether the pricy gourmet restaurant where you want to eat dinner offers a cheaper prix fixe lunch menu. Same chef, same ingredients, better prices.)
It's a beautiful city to see from above. You can go the traditional route and see it from the top of the Eiffel Tower, or you can head to the 56th-floor observation floor of the Montparnasse Tower. It will not only give you a great view of Eiffel's masterpiece but also, as the Parisian joke goes, let you avoid having to look at the admittedly ugly Montparnasse Tower.
Two other tips, if you're going to be in the city for more than a few days: buy a Paris Visit pass to save money on the extensive and efficient network of buses and trains, and pick up one of the various museum passes for affordable access to multiple tourist attractions (see http://en.parisinfo.com/).
 
Charming châteaux
Southwest of Paris, the Loire Valley has a storied history. Occupied by the Romans, then a hub for religious pilgrimages, it later became the vacation playground of France's kings. As a result, it is so studded with ancient ruins, medieval monasteries and opulent castles that the stretch between Sully-sur-Loire and Chalonnes has been declared a UNESCO World Heritage Site. For some of the best views of the châteaux, take a boat cruise. And leave time to visit the landmark gothic cathedral in Chartres, completed in 1250.
 
Historic beaches and famous art
It has been 71 years since the Allies stormed ashore in Normandy on D-Day, but many travellers are still interested in visiting these windswept beaches to visualize that historic day. To learn about the sacrifices of Canadian soldiers in the Second World War, visit the Juno Beach Centre in Courseulles-sur-Mer and the Caen-Normandie Mémorial.
Normandy is also home to Mont-Saint-Michel, a photogenic medieval monastery on a high point of land that, until recently, became an island at high tide. Efforts are underway to clear accumulated silt so that Mont-Saint-Michel will once again be an island at certain times of day.
Art lovers, meanwhile, flock to Claude Monet's colourful gardens in Giverny, which the Impressionist captured in numerous paintings. Another popular stop for art fans is Bayeux, where the famous Bayeux Tapestry — depicting the prelude to the Norman invasion of England — is on display.
 
Raise a glass
Even for teetotallers, no visit to France would be complete without a trip through the lovely green vineyards of one of its winemaking regions.
In Reims, the hub of the Champagne-Ardenne region, you can explore the network of chalk cellars below the city, where many winemakers store their vintages. It's the perfect place to sample a glass of the region's namesake bubbly, perhaps from a famed vintner like Maison Veuve Clicquot.
The Burgundy region, meanwhile, is peppered with sites associated with some of the world's best-known foods and wines, like Chablis and Dijon, so it is easy to wine and dine well. To work off some of your feasting, you can follow one of five scenic vineyard cycling routes.
And in Bordeaux, home of one of the world's leading wine fairs, you can explore the city's 18th-century core — yet another UNESCO World Heritage Site — before or after sampling wines from premier cru vineyards such as Château Latour, Château Haut-Brion and Château Lafite-Rothschild.
 
From the sea to the mountains
Undecided on what sort of landscape you like best? Perhaps your best choice would be the Provence Alpes Côte d'Azur region, which features a little of everything.
For beach lovers, the Côte d'Azur region along the Mediterranean coast — also known as the French Riviera — is known for chic resorts like Saint-Tropez and Cannes. (Bring your big sunglasses and blue-and-white-striped shirts; yachts are optional.) If your budget doesn't quite run to mixing with the international jet set, don't worry. There are many smaller, less celebrated seaside villages where you can soak up the sun without breaking the bank.
Provence is justly famed for its cuisine, landscapes, fabrics, quaint towns and fields of aromatic lavender, which have attracted everyone from Vincent van Gogh to British writer Peter Mayle. The latter may well have sent the area's popularity into the stratosphere with his popular series of travel memoirs.
If mountains are more to your liking than beaches and farmlands, this region also includes the southern section of the French Alps. Hiking is one of the most popular activities here, as you'll find some 6,000 kilometres of alpine trails.
 
Speaking of mountains…
The French Alps stretch across several regions of the country, along the border with Italy and Switzerland. Skiers have been flocking here for many years — not surprisingly, since Mont Blanc is the highest peak in Western Europe, and Chamonix hosted the very first Winter Olympic Games in 1924. (In fact, the games have taken place in the French Alps three times; they were also held in Grenoble in 1968 and Albertville in 1992.) If you want to avoid the crowds, consider visiting in January or March, because the resorts are often very busy over Christmas and during school holidays in February.
 
Food, glorious food
It is difficult, but not impossible, to get a bad meal in France. But the odds of enjoying a memorable meal may be highest in Lyon, France's third-largest city (second-largest if you include all the nearby cities and suburbs). Even among the food-loving French, Lyon is renowned as a culinary destination. Among other advantages, it is home the spectacular Les Halles food market, affiliated with three-starred Michelin chef Paul Bocuse. Speaking of Bocuse, dinner at his restaurant near Lyon, L'Auberge du Pont de Collonges, is a "life list" experience for many foodies. But if you can't get a table there, don't worry; there are some 1,500 other restaurants in Lyon to choose from.
 
Napoleon's first island
My husband and I were in a gift shop in Ajaccio, the capital of the island of Corsica, when the proprietor caught a hint of an anglo-Québécois accent as my husband asked a question in French.
"Vous êtes québécois? Vous êtes un séparatiste!" she declared in a mistaken leap of logic. Without waiting for an answer, she continued, "Nous sommes séparatistes aussi! Vive le Québec libre!"
After we had awkwardly clarified that we were federalists to the core, she smiled, shrugged and rang up our postcards. Everyone is welcome here, even if they don't share some Corsicans' dreams of independence from a mother country.
Closer to Italy than to mainland France, Corsica actually does feel like someplace completely separate from both. Red granite cliffs plunge into the Mediterranean, and about 40% of the island is a nature preserve. A challenging 180-kilometre hiking trail called the GR 20, which takes about two weeks to complete from end to end, rewards seasoned hikers with spectacular views of glacial lakes and olive groves.
If historic sites are more your speed, visit Napoleon's birthplace in Ajaccio. The three-storey house is now a small but intriguing museum dedicated to the life and times of Corsica's most famous son, who started life on one island, was exiled to another and died on a third.
 
If you go
For more information on visiting France, see http://int.rendezvousenfrance.com/