Laura Byrne Paquet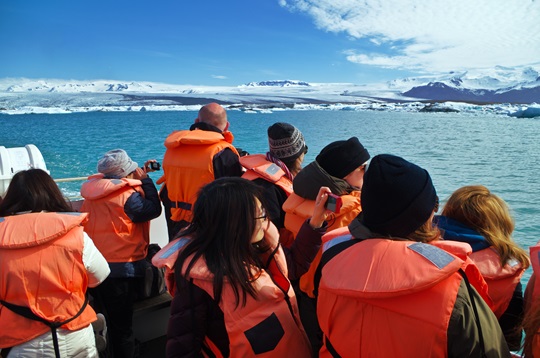 All around us floated ghostly blue-white icebergs, some higher than a two-storey house. Our Zodiac pilot eased our rubber boat close to one, broke off a chunk of ice that might have been at least 1,100 years old, and passed it around for us to touch and taste.
I've been lucky enough to travel quite a bit, and Iceland's Jökulsárlón glacier lagoon was, hands down, one of the most fascinating places I've ever been. It was also among the most haunting, because it is a product of climate change. The lagoon suddenly appeared about 70 years ago, when the Breiðamerkurjökull glacier began to melt significantly.
That's just one of the indelible memories I brought home from Iceland.
 
Start in the capital
The population of Iceland is only 323,000, with about 119,000 living in the capital, Reykjavík. Despite its size, the city is full of things to see and do. Everyone will tell you to visit the landmark Hallgrímskirkja church, completed in 1986, but I was more captivated by Harpa, the glittering, golden concert hall. The main shopping streets, Skólavördustígur and Laugarvegur, are lined with quirky clothing shops and art galleries selling Icelandic-made items. As well, restaurants abound.
 
Hit the road
To really get a sense of Iceland, you need to rent a car or hop on a bus and see the areas outside Reykjavík. At the top of your list should be the Blue Lagoon, an outdoor spa 47 kilometres southwest of the capital that uses excess geothermal water from a nearby power plant. (Don't worry; it's perfectly safe.) As well as being staggeringly beautiful, it's one of the only spas I've ever seen with a swim-up bar. Bring your own towel, or you'll have to pay a substantial fee for an entry package that includes one. Also, stuff your hair into a bathing cap, or the mineral-dense waters will leave it crispy for a month. (I learned that the hard way.)
Beyond Reykjavík, waterfalls probably outnumber towns. If you are driving, stop for gas in every town you pass through, as it may well be another 200 kilometres before you see another house, let alone a gas station. What you will see, however, are mind-boggling landscapes: endless lava fields, crystalline rivers, tiny villages on points of land surrounded by the vast North Atlantic Ocean. Bring a few extra memory chips for your camera.
 
Make it a stopover
Not sure you want to spend a week in Iceland? No problem. The national airline, Icelandair, makes it easy to stop over for a few days en route to Europe. Breaking your flight in two doesn't cost more than flying direct, and there are connecting flights to 27 European destinations.
 
If you go
For more information, see www.visiticeland.com