Laura Byrne Paquet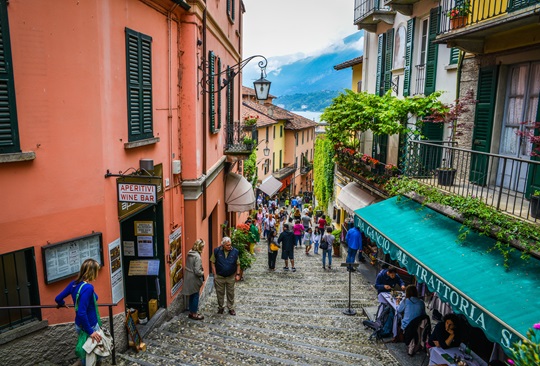 Bellagio, Italy
Here's my top tip for travelling to Italy: Keep your luggage light.
Why, you ask? Many reasons. First, even if you have a rental car, it is likely to have a trunk approximately the size of a picnic cooler. Roads are narrow here and cars are correspondingly so.
Second, if you're getting around the country on public trains and buses, luggage storage space can be limited.
And finally, if you're travelling on the Venetian water taxis known as vaporettiand you leave a heavy, wheeled suitcase unattended for even a moment, there's a very good chance it will roll away across the uneven deck as the boat makes its way across sometimes choppy waters. And, yes, I know this from embarrassing experience.
So now that you know how to pack, where should you go? It all depends on whether you like beaches, lakes, mountains, historic sites, rural vistas, busy cities or fabulous food. Italy has them all.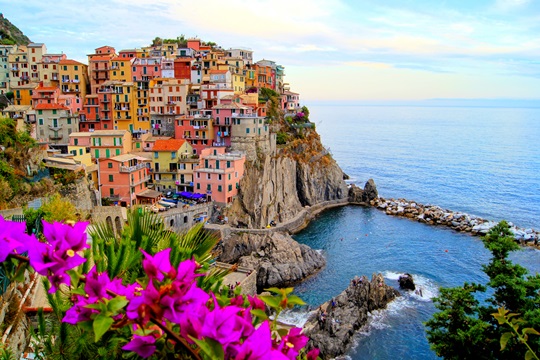 Village of Manarola, on the Cinque Terre coast of Italy with flowers
 
Have a ball at the beach
Stretching east from the border with France, the Italian Riviera is one of the country's best-known seaside destinations. The mountainous coastline is dotted with postcard-perfect places like Portofino and the villages of the Cinque Terre (the latter region is a popular hiking destination, as well).
Italy's islands are also home to some strikingly beautiful beaches. Try Capri or Smeralda for glamour, Sicily for dramatic cliffs, and the sparsely inhabited Maddalena Islands for serenity. Be aware, though, that many of Italy's beaches are rocky rather than sandy; check in advance if barefoot strolls are your idea of seaside bliss.
 
Hi, George!
Even though they own a villa on Lake Como, don't expect to bump into George and Amal Clooney in one of the nearby towns; apparently, they keep pretty much to themselves. But who needs Hollywood's A list when there are lofty mountains, blue lakes and gorgeous villages to look at? Not surprisingly, prices in this chic resort area on the border with Switzerland can be high, but there are ways to keep them in check. If you don't mind a long day, make this a day trip from slightly cheaper Milan, and travel between lakeside towns on one of the affordable ferries.
 
Delve into the past
For those interested in history, few countries can rival Italy for its depth of fascinating, accessible historic sites.
For those enamoured of gladiators and emperors, all roads lead to Rome. You can easily spend days exploring the remains of what were once the most famous landmarks in the world. The centre of it all was the Forum, dating back to the 7th century BC, where vital public buildings drew all the important people. Today, remains of temples and a ceremonial arch are the big attractions. Nearby, in the enormous Coliseum, up to 55,000 spectators could once cheer on their favourite combatants. On busy days today, it may seem as though that many people are there taking selfies. 
Another hugely popular site for amateur archaeologists are the ruins of Pompeii and Herculaneum, near Naples, eerily preserved forever when Mount Vesuvius erupted in 79AD.
Perhaps illuminated manuscripts and Gothic churches are more to your taste? Fans of the Middle Ages are spoiled for choice in Italy. Near the Slovenian border, Cividale del Friuli is known for its cathedral, a reconstructed 15th-century bridge and a palace designed by famous architect Andrea Palladio. In Verona, about an hour from Venice, you can visit the House of Juliet. The 13th-century palace may or may not have inspired Shakespeare, depending whom you ask. (Don't be fooled by the palace's balcony, which was added in the 1930s to appease literature-loving tourists.)
Florence is often cited as the birthplace of the Renaissance, and it is still home to some of that period's most famous artworks, such as Botticelli's The Birth of Venus and Michelangelo's David. But even if you don't know da Vinci from De Niro, Florence is still one of the most stunning places in the world to simply wander. From the city centre, take the Ponte Vecchio across the Arno River and head uphill to the vast Boboli Gardens for a bird's-eye view of the city.
 
Unforgettable landscapes
If you've ever sighed over a calendar photo of rolling hills criss-crossed by rows of towering cypress trees and studded with red-roofed villas, you've probably been gazing at a picture of Tuscany. Even in a country noted for beauty, it stands out, with its seemingly endless vineyards, wineries and olive groves. You'll also find picturesque communities like Siena and San Gimignano, whose medieval town centres are UNESCO World Heritage Sites.
While Tuscany may be home to Italy's most famous rural landscapes, it is far from the only destination for scenery-loving visitors. The Amalfi Coast is a magnet for drivers. Its twisting roads, hugging a narrow strip between the mountains and the sea, seem tailor-made for a luxury car commercial or an old Grace Kelly movie. (But be forewarned: Driving these scenic roads is not for the faint of heart, so you might want to visit on an organized coach tour or, if you want to splurge, hire a private driver.) 
 
Urban pleasures
Since Italy wasn't unified as one country until the 19th century, its once-independent cities are incredibly diverse in terms of industry, architecture, history and vibe. No matter what your preference, if you enjoy vacationing in cities, you'll likely find one in Italy that suits you very well.
In the north, Milan is sleek and stylish. One of the fashion capitals of the world, it is the last place on earth you want to be caught wearing running shoes, baggy jeans and a fanny pack. However, if shopping for designer handbags, sky-high shoes and unique décor pieces is your idea of a great long weekend, Milan is the place for you. Even if your budget doesn't run to buying much, save a bit to shell out on coffee and biscotti at one of the cafés inside the grand, skylit Galleria Vittorio Emanuele II, a 19th-century shopping arcade that feels more like a palace than a mall.
If food and wine are the focus of your vacation, a map of the Emilia Romagna region can look a bit like a geographic menu. You can visit Parma, home of the namesake cheese and ham; Bologna, known for its sauce and sausages; and Modena, where balsamic vinegar may have originated and which is still home to some of its most esteemed producers. Culinary tours and cooking classes abound in cities across the region, whether you want to spend an afternoon learning to make pasta or years qualifying as a professional chef.
Naples isn't the first city most travellers think of visiting, but Italy's third-largest metropolis — also one of its most frenetic — has its hidden charms. Famed for both pizza and gelato, it's a place where you can dine well on a budget. It is also home to several notable castles, an excellent archaeological museum and Italy's oldest opera house. Perhaps its most famous feature is the sweeping Bay of Naples on the Mediterranean Sea. To see that in all its glory, hop a ferry to one of the outlying islands, like Capri or Ischia.
Even Italy's smaller, lesser-known cities offer rewards to the curious visitor. In Turin, for instance, you can tour an underground city, including an old air-raid shelter and a former ice-storage cave, or head to the ski hills made famous during the 2006 Olympic Winter Games. In Trieste, near Slovenia, you can immerse yourself in the city's fascinating history — over the centuries, everyone from the Romans and the Byzantines to the Hapsburgs and Napoleon has controlled the strategic port. Perhaps the resulting sense of impermanence is the reason it has historically appealed to so many dreamers, wanderers and exiles, including James Joyce, who lived there sporadically for many years.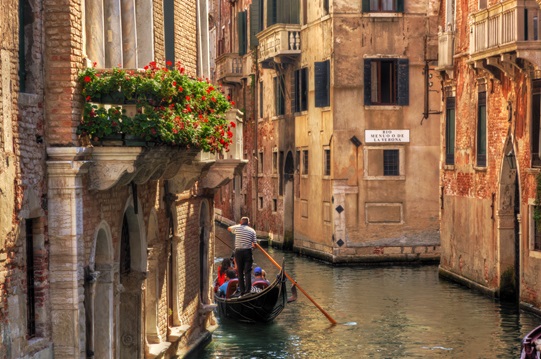 Venice
 
A city like no other
A striped-shirted gondolier propelling a long, colourful boat beneath the delicate arch of a pedestrian bridge. Sunset staining the massive dome of St. Mark's Basilica in shades of gold and crimson. Pigeons squawking as they flutter off the column of St. Mark's Campanile when the bells chime. The never-ending splash of water against weathered palaces and luxurious hotels along the Grand Canal.
Is it any wonder that Venice is among my favourite places in Italy?
It truly is as magical as the tourist brochures say it is. Yes, it can be crowded; to avoid the hordes while still enjoying decent weather, visit in spring or fall. Yes, it can be expensive; after all, land is at a premium. And yes, it can be incredibly touristy.
But here's how to escape all that: board a vaporetto and keep going until you see a building or square that intrigues you. Step off and start wandering. Soon, you'll be in one of Venice's residential neighbourhoods, where kids ride bicycles across cobblestoned squares and laundry hangs from shuttered windows. Pull up a chair at a sidewalk café, order a glass of wine, and breathe a sigh of relief. Even in one of the world's most visited cities, you've found a tiny corner to call home.
 
If you go
For more information, see www.italiantourism.com.