Laura Byrne Paquet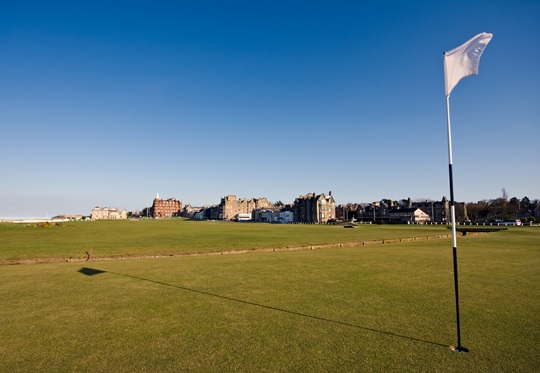 The flag on the first hole of the famous Old Course links in St Andrews on a clear sunny afternoon.
 
Scotland has given the world curling and the modern bicycle, electric clocks and Dolly the cloned sheep. That's pretty impressive for a country just slightly larger than New Brunswick and with fewer people than metropolitan Toronto.
However, that list doesn't include two of the country's best-known inventions: golf and Scottish whisky. Here's how you can enjoy a bit of both — and a taste of city life, as well.
 
A golf trip for everyone
Some people start polishing their golf clubs the moment the mercury climbs above 0 °C each spring. Others, however, agree with the old saying (often erroneously attributed to Mark Twain) that "golf is a good walk spoiled."
If your travelling group includes people of both persuasions, your best bet for a Scottish vacation would be a large golf resort. That way, while the duffers are enjoying their 18 holes, the rest of the group can easily keep themselves amused.
If the budget allows, try the Gleneagles Hotel, northwest of Edinburgh. Along with three championship courses and a renowned golf academy, it offers activities ranging from falconry and horseback riding to photography and fishing (there's also a gorgeous spa). Other leading courses in Scotland include Royal Troon, the Ailsa Course at Turnberry and the Old Course at St. Andrews.
In a golf-mad place like Scotland, however, you don't have to shell out top dollar to play. There are over 500 courses across the country, so it's easy to find one to fit your wallet.
 
A wee dram
Speyside's Malt Whisky trail features nine producers, including world-famous Glenfiddich. But you'll find whisky distilleries scattered across the country, from the Orkney Islands in the far north to Annan, near the border with England.
The taste of the final product varies from place to place. Whiskies from the island of Islay, for instance, have heavy notes of iodine and peat, which make them something of an acquired taste.
Not sure which whisky style appeals to you? You're in luck: most distilleries offer tastings. (Make sure you have a designated driver!)
For a theme park-style introduction to the world of distilling, try the Scotch Whisky Experience in Edinburgh, where you'll travel through a reproduction distillery in a spinning, barrel-like car before enjoying a wide-ranging Scotch tasting.
 
 
While in Edinburgh…
Scotland's capital and second-largest city, after Glasgow, Edinburgh has lots to entertain visitors, including Edinburgh Castle, the Royal Botanic Garden and the Royal Yacht Britannia, now permanently moored in Leith. To see the city at its most lively, visit during the Edinburgh Fringe Festival, the largest arts festival in the world (make sure to book far in advance).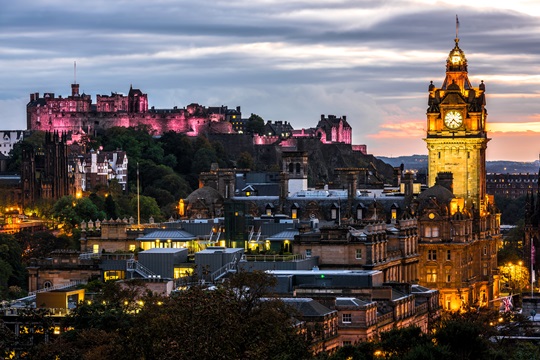 Edinburgh castle and Cityscape at night, Scotland UK
 
If you go
For more information, see visitscotland.com/en-ca/