Sandra MacGregor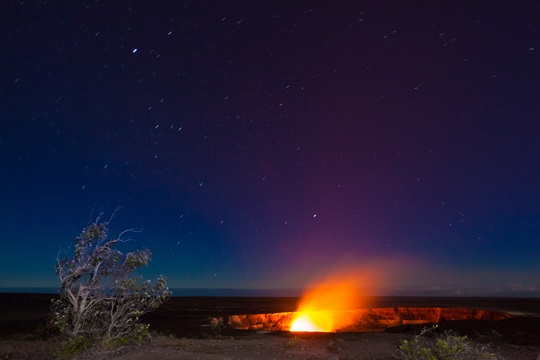 Few destinations in the world have as much to entice sun and surf lovers as Hawaii. Yet while the archipelago remains an iconic destination for beach goers, it has much more to offer than aquamarine waves and a picturesque coastline. Hawaii hosts some of North America's most remarkable and verdant parks. Offerings include ancient sites, active volcanoes, diverse vegetation, and animal and flower species that exist nowhere else on the planet. In case you need another excuse to visit Hawaii's parks, 2016 marks the USA's National Park Service's #FindYourPark campaign in honor of its centennial. Many parks will be hosting special events to mark the occasion.
 
Hawaii Volcanoes National Park, Big Island
Travellers may find it hard to believe that Hawaii's hottest treasure is not the never-ending sunshine but Kilauea, one of the world's most active volcanoes. You can see this burbling beauty first-hand at the famed Hawaii Volcanoes National Park.
As though hosting one of the planet's most eruptive mountains wasn't enough, the park is also home to Kilauea's sibling, Mauna Loa. Not to be outdone by Kilauea, Mauna Loa lays claim to the title of world's largest volcano. Rising more than 4 kilometres above sea level (over 1.2 kilometres higher than Mount Everest), it also ranks as one of the most active volcanoes.  
The park's 240 kilometres of trails give you plenty of opportunity to get up close and personal with the fiery giants. You can walk on craters and through lava caves, see active and dormant lava flows, and discover for yourself why this is where Pele — the goddess of fire, wind and volcanoes in traditional Hawaiian mythology — lives.
Because stark, desert terrain surrounds them, it can be easy to forget that they are as much a creative force as they are a destructive one. Hawaii owes its very existence to the eruptions of these molten masses and, as though to empathize their creative powers, the park is replete with more obvious reminders of life. Hawaii Volcanoes National Park comprises lush rainforest. It has a stunning array of plant and animal life — more than 50 threatened or endangered species live here.
There's something primal about this refuge. Here, it's not just the power of the lava-filled leviathans that elicits a sense of awe. The varied landscape commands the imagination, changing from verdant rainforest to grasslands to ravaged, desolate land near the volcanoes' summits. There are few places on earth where life and death are juxtaposed so beautifully. It's no wonder the park has attained status as both a World Biosphere Reserve and a UNESCO World Heritage site.
 
Puuhonua O Honaunau National Historical Park, Big Island

Dazzled by Hawaii's stunning natural beauty, travellers can easily forget that these islands are also home to fascinating cultures. Puuhonua O Honaunau National Historical Park offers a singular (and much less "tourist-trappy") opportunity to learn about the traditional Hawaiian people and their customs.
To this day, the park is one of Hawaii's most sacred historical areas. In the Hawaiian language, Pu'uhonua o Honaunau, means "place of refuge." Until the early 1800s, anyone who broke a kapu (a strict law punishable by death) could try to flee to Puuhonua. Once there, a priest would absolve their crimes, allowing themto return to their village without fear of reprisal. During times of war, women, children and defeated warriors could also find sanctuary in this holy place.
Ancient ki'i (carved wooden images) still stand sentinel over the revered site, which once hosted Hawaiian royalty. The area includes temple platforms, royal fishponds and the remains of the historic coastal village of Ki'ilae. It's hard not to be swept back in time as you watch demonstrations of traditional weaving, fishing and carving or hear heart-stopping tales of bravery and defeat by captivating storytellers.
Don't be surprised if you feel like you are being watched as you tour the park. Is it the spirits of the long dead men and women who once roamed this sacred place? Perhaps — but turn a sharp eye toward the rock beds along the water. The area is one of the best places in Hawaii to spot a suntanning honu, the charming Hawaiian green sea turtle.
 
Waimea Canyon State Park and Kokee State Park, Kauai


Though two separate parks, their proximity (only 25 kilometres apart) and impressive offerings mean a visit to one is never complete without a tour of its equally awe-inspiring neighbour.
Waimea Canyon State Park is often dubbed Hawaii's "Grand Canyon of the Pacific." At only 16 kilometres long and reaching depths of almost a kilometre, it can't compete with the Grand Canyon for size, but it certainly offers visitors their fair share of breathtaking vistas. It's famed for its bright crimson and ochre lava rock that rings the canyon. Its picturesque qualities are amplified by an incredibly rich — if at times uneven — spread of greenery. Depending on the time of year you visit, this greenery can bring to mind Mother Nature's version of a lopsided toupee.
Waimea has some wonderful hiking trails and even offers a mountain biking tour for adrenaline junkies. But if you were planning to treat yourself to one major indulgence, a helicopter tour is the most unforgettable way to see the canyon.
After you've given your camera a workout at Waimea, head to nearby Kokee State Park to stretch your legs on a picturesque promenade. Green is the colour that wins out at this hiker's paradise, thanks to thick swaths of rainforest that make up most of the park. More than 70 kilometres of trails weave in and out of the mist-shrouded forest, many under the watchful eye of the majestic Kalalau Valley. Be sure to bring a sweater or light rain jacket: a continuous mist enrobes the forest, which is not surprising given its proximity to Mount Waialeale. Waialeale is one of the wettest spots on earth, with an average rainfall of 11,000 mm.
Thanks to this persistent precipitation, Kokee has the honour of being home to Alakai, the world's highest (and Hawaii's largest) swamp. The Alakai Swamp trail is among the park's most popular hikes and provides a wonderful opportunity to see a variety of native plants and wildlife. Keep your eyes peeled for a chance to spot the beloved pueo, a Hawaiian native owl who hunts in the daytime.
The Kokee Museum, which operates as a visitor centre for both Waimea Canyon and Kokee State Park, is definitely worth a visit. It's the best place to plan a hike and to get to know a little about the animals and plants before you set off.
 
Haleakala National Park, Maui

After witnessing a sunrise at Haleakala, which means "House of the Sun" in Hawaiian, you can understand why the sun would want to call this place home. Every morning, tired, blurry-eyes tourists and locals come to Maui's highest peak for a chance to watch the sun claim its rightful spot in the sky.
But at this national park, the night has plenty to offer too. As though knowing the sun will steal the spotlight come dawn, the night sky at Haleakala provides one of North America's best celestial shows. The piercingly clear views of the starry sky are a stargazers dream. In fact, the University of Hawaii's Institute for Astronomy operates an observatory at the summit of Haleakala. Although not open to the public, the observatory offers special public events. Because this World Biosphere Reserve has so much to offer both day and night, it's open to visitors 24 hours a day, 365 days a year.
The park also features the massive 3.5 by 9.5 kilometre Haleakala crater. It's hard not to feel dwarfed and overwhelmed by its immense ashen terrain, but don't let these seemingly barren hills fool you. Parts of this otherworldly landscape are teeming with life. Nature lovers can revel in once-in-a-lifetime flora and fauna viewings at Haleakala. Some species of plants grow nowhere else on the planet. One such rarity is the Haleakala silversword. Its the shiny rosettes can grow for over half a century only to produce a single towering stalk of resplendent flowers, seed and then die.
The park also provides refuge to two of the world's most endangered birds — the Hawaiian goose (called nēnē in Hawaiian) and the Hawaiian petrel. The petrel's nesting colony on the scorched soil at the top of Mount Haleakala provides a powerful reminder that Hawaii's volcanoes give and take life in equal measure.
 
Learn More
Visit Hawaii's National Parks before planning your visit.