James Baxter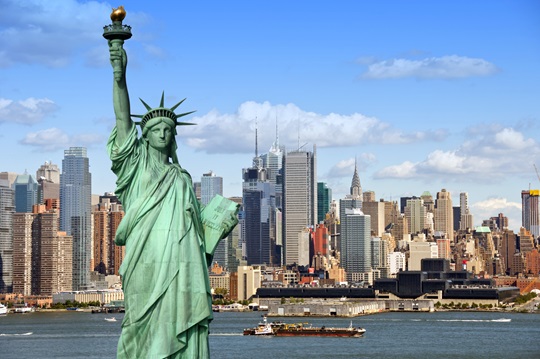 Start Spreading the News. New York City is a great place to take the grandkids.
The Big Apple is in love with a little girl — and you will be too. Her name is Matilda.
The brilliant stage musical version of Roald Dahl's classic children's story has become one of Broadway's biggest draws in years, winning spectacular reviews and attracting audiences of all ages. For anyone building a family trip to New York City, it is the perfect cornerstone.
Dahl's notoriously dark plot about mean adults and children in revolt is lightened somewhat by superb music and a memorable ensemble anthem,When I Grow Up, which is spectacularly choreographed and will keep you humming for days.
A quick trip to TKTS on Times Square offers steep discounts on other family classics, including the Lion King, Cinderella, Newsies and Wicked. They're all great for younger kids, while Les Miserables, Chicago and Kinky Boots are great for teens and young adults.
And if you'd like a burger and shake before or after the show, head to Ellen's Stardust Diner (1650 Broadway), where the staff (many of whom are regulars in Broadway choruses) sings for your supper … and your tips. The food is good and the memories are lasting.
Family trips to New York are all about making memories. Successful trips also need planning — just remember to give yourself time for spontaneous exploration in the city that never sleeps.
 
Finding a hotel
There's no secret to finding a great hotel in New York, but finding it on sale takes some doing. The key is finding one that is clean and comfy (with New York outside your window, you're not really planning to spend a whole lot of time there). Check Kayak.com, which searches all the aggregators for you. If you're feeling a little daring, go to Priceline.com and bid low on four-star hotels in midtown — you can't go wrong. Midtown puts you within walking distance of the Rockefeller Center, Grand Central Station, Saks Fifth Avenue and the New York Public Library.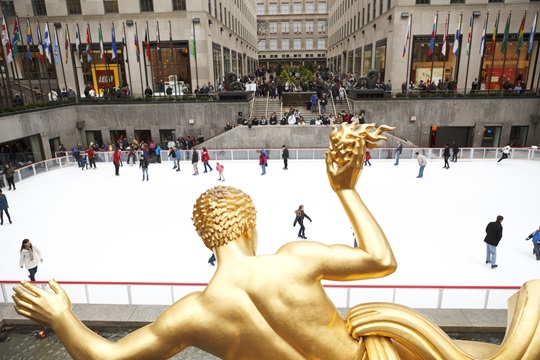 Rockefeller Center
 
What to see
Manhattan is best experienced on foot, though cabs (expensive) and the subway (cheap) are quick ways to get around. A good way to decide when to walk and when to ride is by first getting your bearings — and for that, nothing beats a bird's-eye view.
If you haven't been "up top" in a while, visit the Top of the Rock observation deck at the top of the Rockefeller Center. It's not as high as the Empire State Building, but it's far more spacious and the views of Central Park, the Hudson River and New Jersey are stunning.
To the west, you'll see the Intrepid Sea, Air and Space Museum at Pier 86. Yes, that is a space shuttle on the deck – The Enterprise – and not far away is a Concorde, must-sees for kids of all ages.
To the south, there's Wall Street and the site of the World Trade Centre memorial. It's not for everyone, but for kids learning in school how the world changed in seconds just a dozen years ago, it's a worthwhile pilgrimage.
Likewise, the UN Headquarters on the East River is an eye-opener for young minds learning about the world and its many cultures. Visitors can take tours and learn what goes on in the General Assembly hall and the Security Council chambers.
Turn right and look up the west side of Central Park. There, part way, is the famous Museum of Natural History (Central Park West at 79th Street), with the statue of Teddy Roosevelt out front. The museum, which was the setting for Ben Stiller's kid-pleasing Night at the Museum, is also the perfect place for a family outing. Make sure to check out the space show at the Hayden Planetarium before you leave.
But New York is more than just a collection of famous places. It's a set of experiences — a chance to connect memories and feelings across generations.
One wonderful thing to do is to tell your kids and grandkids about John Lennon. From the foot of Terry Roosevelt's statue, grab a pretzel or some roasted nuts and walk across the street and south along Central Park West. At the next block, enter Central Park, where you will find the Strawberry Fields memorial. Look back up the path to the Dakota, the building where Lennon lived and where he was killed. More than 30 years have passed since his death, but you can't help but be moved. If your kids or grandkids have iPods with them, suggest they download "Imagine," sit on a bench and watch their eyes as it all becomes real for them. They'll never forget anything you tell them next.
Another excellent family adventure is to take one of the many Sunday morning bus trips up to Harlem for a morning of gospel. Once a bad part of town, Harlem has returned to its status as one of New York's most culturally vibrant and electric neighbourhoods. Don't worry if you're not Baptist – or even Christian for that matter – the journey is fun, lively and uplifting.
These are just a few ideas for building a great trip. But like every great trip, the memories will come from you, your family and one of the greatest cities in the world.