Patrick Brennan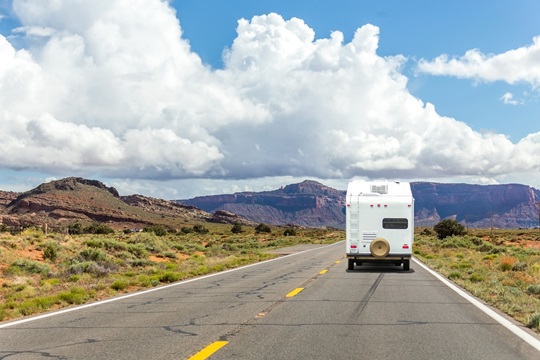 It doesn't matter where you go, you're already home. That's one of the many joys of vacationing, or even living full time, in a motorhome.
Construction of new homes fell off drastically across America following the 2008 economic recession, but not in Elkhart County in northern Indiana. That's because half the recreational vehicles on America's roads today were built there.
 
An easier lifestyle
The recession forced some people to move out of their homes and into recreational vehicles, but most sales were to people who were looking for a new lifestyle that didn't require a big, empty house, didn't require shovelling snow, didn't require constantly rising property taxes—but did involve the freedom of the open road. As the kids grow up, the job winds down and the end of the mortgage comes into sight, many people start thinking about motorhome living.
Motorhomes and motorhome lifestyles vary widely. Some couples invest in a $1-million rig with as many amenities as a Manhattan penthouse. Others spend $65,000 on a new unit that sleeps six, or $25,000 for a used version of the same unit that still has plenty of life left in it.
 
Are campsites expensive?
If you are travelling in the U.S., the prices of a place to park your rig range from $100 a night at some RV resorts to free on desert lands owned by the federal government's Bureau of Land Management.
Pull into most Walmarts after 9 p.m. and you'll see several motorhomes parked for the night for free at one end of the large parking lot. When Sam Walton opened his first superstore in Bentonville, Arkansas, he was amazed at the size of the parking lot. Sam was a long-time camper and he told his staff that if anybody pulled onto the lot for the night, they should be allowed to stay.
Some Walmart parking lots are like RV resorts. There's one in Galveston, Texas, where the parking lot is practically on a beach on the Gulf of Mexico and rolling waves lull you to sleep.
Truck stops are another option. Dozens of 18-wheelers park overnight at each Flying J Truck Stop, but they are kept separate from the dozen or more RVs also overnighting there. Flying Js and similar truck stops are popular with RVers because they can also stock up on fresh water, dump their sewage and buy fuel at competitive prices.
 
Get the inside scoop
There are dozens of blogs written by couples who have been full-time RVers for years, describing their daily lives on the open road. On these sites, you'll find everything from recipes suitable for compact RV kitchen to tips on replacing a water pump. Check out wheelingit.us, littlehouseliving.com orRVroadtrip.us.