Laura Byrne Paquet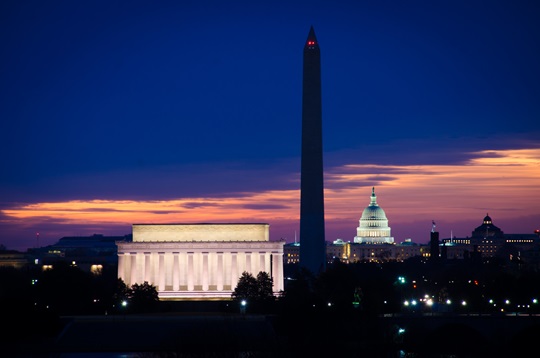 History buffs and political wonks, start your engines: you'll be hard pressed to find a better road trip destination in the U.S.A. than Washington, DC. From the White House and Capitol Hill to the Smithsonian Institution, it's like Disneyland for geeks. (As a lifelong geek myself, I use that term with pride.)
However, there's more to the city than monuments, memorials and museums. With some lively nightlife districts, a world-famous zoo and a stunning cherry blossom festival, America's capital has charms even for visitors who wouldn't know a senator from a centaur.  
 
The political circuit
Want to see politicians in action? You can get a pass to the galleries of the Senate and the House of Representatives at the Capitol Visitor Center. To take the popular free guided tour of the U.S. Capitol, reserve online as far in advance as possible.
If you want to learn about the president's home and office, stop by the free White House Visitor Center, where you can take a virtual touchscreen "tour" of the executive mansion, see artifacts and watch a movie about the famous residence. Unfortunately, tours of the White House itself are only available to Americans at the moment.
 
A museum for every interest
The Smithsonian Institution alone comprises 19 museums and nine research centres, focusing on everything from sculpture to space, and all its Washington sites are free of charge. Don't-miss Smithsonian attractions including Charles Lindbergh's plane, the Spirit of St. Louis, at the National Air and Space Museum; Dorothy's ruby slippers from The Wizard of Oz at the National Museum of American History; the complete collection of presidential portraits at the National Portrait Gallery; and the giant pandas at the National Zoo. The Smithsonian's newest museum, the National Museum of African American History and Culture, is scheduled to open on September 24, 2016.
Aside from the Smithsonian, Washington is also home to a wide variety of other museums, including the International Spy Museum and the Newseum.
 
Photogenic flowers
The big event in Washington each spring is the National Cherry Blossom Festival (March 20 to April 16, 2017). As well as viewing thousands of cherry trees blooming around the Tidal Basin and other central sites, you can enjoy a kite festival, a parade and other activities.
 
Drinking and dining
As a town full of transients, Washington is packed with places to eat and drink. Popular neighbourhoods include Shaw, with its long African-American history; Adams Morgan, known for its lively ethnic restaurants; and stylish Georgetown and Dupont Circle.
 
If you go
Spring and fall are the best times of year to visit, as summer can be very humid and crowded, and winter temperatures often hover around the freezing mark. For more information, contact Destination DC (https://washington.org/).