Laura Byrne Paquet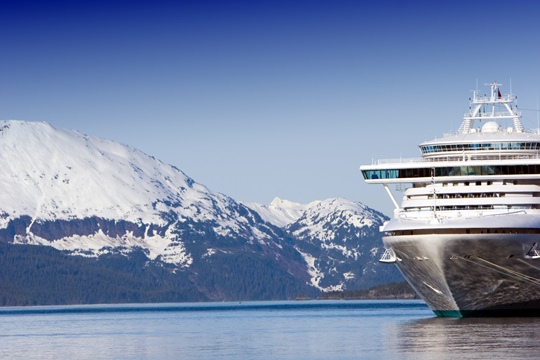 If you're heading to Alaska on a cruise, you don't need a steamer trunk to carry a huge range of clothes and gadgets. Once you've packed the vital items (passport, money, medications), follow these tips and you'll be travelling lightly like a seasoned pro.
 
Outerwear
Leave your bulkiest parka and thickest mittens at home or you'll find that they're too heavy and far too warm.
During Alaska's cruising season, from late spring through early fall, the weather can vary from almost balmy in Anchorage to misty in the Inside Passage. So pack items that can be layered, such as fleece jackets, short- and long-sleeved cotton tops, tights, and several pairs of lightweight gloves. A light, roomy, water-resistant jacket will be your best friend. And if you're not concerned about looking goofy, those pants you can convert into shorts are handy.
The right footwear is crucial. If you're planning to just stroll the streets in port, runners will be fine, but if you've signed up for any sporty shore excursions, bring hiking shoes or boots.
 
Shore excursion essentials
Since you're going to be layering, you'll need a lightweight daypack to stuff unneeded items into as the days warm up, along with your wallet, camera, sunscreen and other necessities.
Sunscreen? I hear you ask. Yes, Alaska might not be Miami, but the UV index can be high. Don't forget to bring sunglasses, a sunhat and an SPF-enhanced lip balm, too, along with a bottle of strong mosquito spray. Make sure the latter comes in a pump bottle, as you can't bring aerosols onto an aircraft.
Here are a few other items worth packing:
small guidebooks to local birds, animals or astronomy
binoculars and zoom lenses
a collapsible umbrella
 
Onboard comfort
Depending when and how far north you travel, you may get up to 21 hours of daylight per day. If you have trouble sleeping in anything but utter darkness, bring a sleeping mask or request an interior cabin. Similarly, if the low-level hum of the ship's engines might bother you, pack earplugs.
Today's cruise ships are highly stable, but seas are still unpredictable. If you're prone to seasickness, bring motion sickness pills or wristbands.
Check with your cruise line about onboard dress codes. Some ships don't permit shorts or jeans in certain areas at certain times. Many have several formal dinners, where cocktail dresses for women and sport coats, suits and even tuxedos for men are appropriate. Other ships are completely casual. To keep your suitcase light, make sure whatever you bring can do double duty. If you pack a variety of accessories, one little black dress will take you to multiple dinners. Men have it even easier: switch up your ties and shirts, and one suit will do.