October 17, 2019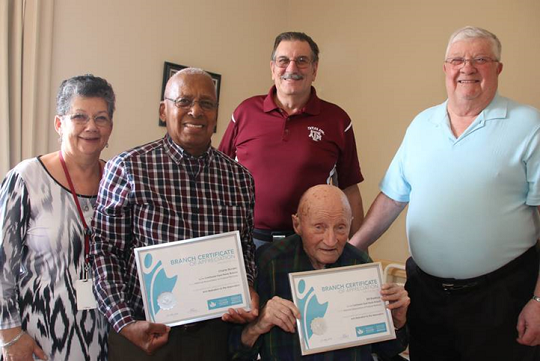 At the completion of our annual members' meeting in March, we had six members elected to our executive which left two vacancies. I am happy to inform you that those two vacancies have been filled by appointment. Shortly after our meeting Noel Lannon approached me and offered to fill one of those vacancies. His appointment was confirmed at our next executive meeting. Last month Kathy Banfield attended our executive meeting and this month offered to join us as our health benefits officer and her appointment were confirmed. This now gives us a full complement of executive members with duties assigned to each individual. According to our by-laws, Noel and Kathy's positions must be voted on at our next annual meeting in March, after which they will, if elected, serve for a period of two years. This will give us our sought after continuity in the executive with elections being required each year for different executive positions. Six positions will be available in odd-numbered years and two positions available in even-numbered years.
On April 18, we visited Cedar Stone to present certificates of appreciation and service pins to Charles Borden and Bill Bradbury for their many years of service to our branch. This presentation was covered by a reporter from the Daily News and her article, telling Bill's story of being a veteran but being refused entry to Camp Hill Hospital, was partially responsible for his case to be reviewed and happily, he was moved to Camp Hill in mid-June. April 24 and 25, Allan, Nick and I attended the regional meeting in Dartmouth.
May was quite busy with our branch BBQ and four scheduled webinars to prepare us for the June annual meeting of members (AMM) in Gatineau, which I attended. Much of this year's AMM focus was on the election and the Association's strategic plan. Our fight against Bill C27 was successful in that the bill is effectively dead. The national office will continue to monitor the actions of the new government and make every effort to prevent them from reintroducing similar legislation that could potentially affect our pensions. Our fight against rate increases in PHSCP was not successful with the Federal Court of Appeals' judgment that the increase was lawful.
July was very quiet but things picked up in August with three webinars, then two more in September which focused mainly on the election. On Sept. 27, we had a booth in the Atlantic Vitality Expo, formerly the Seniors Expo, held at the RECC. This event was a major disappointment. Our comments and suggestions have been directed to the RECC 2020 Expo planning committee for their deliberation and consideration.
On Dec 4 and 5, Nick and I will be attending the national board of directors meeting being held in Moncton. Next year's regional meeting will be held in Dartmouth in April, with hopefully three of our members attending. The national AMM will be held in Gatineau in June, with two of our members attending.
Let me finish this report by saying that it is a distinct pleasure to work with such a fine group of individuals. We have accomplished much but we must continue working together to provide the support and activities our members want and deserve.
Thank You,
Gene Bell CD
President, Colchester-East Hants Branch