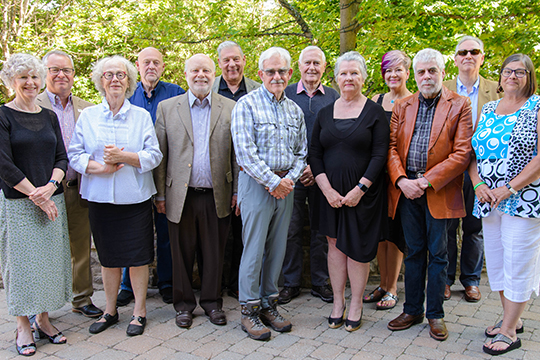 Join our board of directors and lend your voice to speak for retirement security for our members and all Canadians.
 
We're seeking dynamic individuals with a track record in executive leadership. If you're passionate about retirement security, veterans' rights and health-care policy for older Canadians, we want to hear from you!
 
Nutshell
Serving on the national board of directors is an extraordinary opportunity for anyone who is passionate about leading an organization. The national board champions the importance of retirement security and is committed to working as a cohesive team with a strong voice. Board members are active ambassadors for the Association and are fully engaged in the advancement of its mission.
 
What you bring to the role
Strong teamwork skills
Business law basics
Strategic planning concepts
Financial management principles
 
What you'll do
Board members are expected to practise good governance and to be aware of the Association's current policies and advocacy issues. Duties include:
Attending five in-person board meetings per year, as well as additional teleconference and web meetings as necessary.
Preparing for meetings in advance, to allow for positive participation in discussions.
Serving on one or more board committees and participating actively in committee work.
Overseeing the Association's finances and helping the board to fulfill its fiduciary responsibilities.
Representing the Association as required and supporting its advocacy and policy positions.
 
Application process
In 2023, the following three-year positions will also be open for election: directors from the British Columbia and Yukon, Prairies and Northwest Territories, Quebec and Atlantic districts. Nominations for these positions officially opened on Oct. 13, 2022.
If you're interested in joining the National Association of Federal Retirees' board of directors, or if you would like more information, please email elections@federalretirees.ca to contact the nominating committee. The nominations process for these four positions closes on March 22, 2023.
The Association is committed to building a culturally diverse board and strongly encourages applications from women, visible minorities, Aboriginal Peoples and individuals with disabilities. Spousal members are also welcome to apply.