The National Association of Federal Retirees is the largest national advocacy organization representing active and retired members of the federal public service, Canadian Armed Forces, Royal Canadian Mounted Police (RCMP) and retired federally appointed judges, as well as their partners and survivors.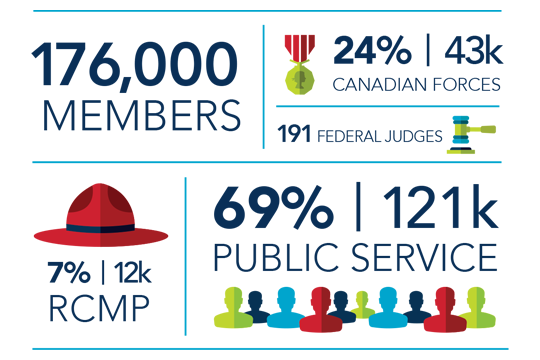 We work to significantly improve the quality and security of retirement for our members and all Canadians through advocacy and the provision of services.
We believe every Canadian, today and in the future, should benefit from better retirement security and a strong, sustainable health care system, and that all Canadians should enjoy dignity in retirement.
Federal Retirees is seeking:
 
Improved Retirement Security
   Fix Phoenix now
The Phoenix pay system is depriving seniors of income security. Many retirees are waiting over a year for severance pay and other compensation that was earned and promised. Fixing Phoenix needs to be a top federal priority.
Federal Retirees have attended countless meetings with Members of Parliament and senior government officials, demanding action on this important file. Recently, we surveyed our membership to further understand the impact of Phoenix on federal retirees.
National Seniors Strategy
    Implement a national seniors strategy
While we welcome the emphasis on home, palliative and long-term care in the health agreements Ottawa signed with provinces and territories, all levels of government must come together to ensure these commitments are effectively met, and work toward an integrated continuum of care, including innovation, to ensure seniors get the right care, in the right place, at the right time.
Federal Retirees continue to support private members' motion M-106, and have presented to the House of Commons Standing Committee on Human Resources, Skills and Social Development and the Status of Persons with Disabilities.
As part of our call for a National Seniors Strategy, Federal Retirees has lead the way in advocating for the appointment of a Minister for Seniors. In July 2018, a minister was appointed – and we are celebrating this victory with all Federal Retirees and Canadian seniors. Now, we are urging the Minister to make the implementation of a National Seniors Strategy their top priority.
Support for Canada's Veterans
    Simplify the system
Financial supports for disabled veterans remain unnecessarily complex. Veterans deserve a simple and straightforward system that meets their needs and deserve a deadline for the introduction of a simpler and veteran-friendly benefits system.
    Expand eligibility
Canada's Veterans Ombudsman found that new benefits such as the Family Caregiver Relief Benefit, the Critical Injury Benefit and the Retirement Income Security Benefit have limited impact on the broader veteran population because so few are eligible.
In the fall of 2017, we hosted a cross-country tour to listen to veterans issues. The full report will be released in the spring of 2018.
   Support for women veterans
Military and veteran women face unique challenges that must be addressed, especially as the government has indicated it plans to increase the percentage of women serving in the military. Federal Retirees has taken a leadership role in supporting the Women Veteran Research and Engagement Network (WREN) which promotes and monitors a healthy and safe workspace for Canadian women in the CAF, RCMP and women Veterans.