The Mega Recruitment Drive is back - and this year, it's even bigger and better! Refer a member to the Association for your chance to win one of 14 great prizes including the grand prize - $10,000 cash courtesy of Johnson Home and Auto Insurance.
The early-bird prize is a $500 pre-paid credit card, courtesy of SimplyConnect. The early-bird draw will be held Oct. 30, so start getting your referrals in early and often! Did we mention that every new member referral earns you a $5 gift card as a thank you?
There are no limits to the number of entries you can submit. The more people you refer, the more chances you'll have to win!
Federal Retirees is now offering gift memberships! Plus, giving the gift of membership also enters you into the Mega Recruitment Drive contest. It's an excellent gift for them and a chance to win big for you!
Eager for details? You can learn more about how the contest works, consult the official rules and submit your referrals right here on our website. Plus, if you know a prospective member who needs some convincing, be sure to share our top 10 reasons to join.
Wondering who is eligible for membership? Membership is open to active and retired members of the federal public service, Canadian Armed Forces, Royal Canadian Mounted Police and retired federally appointed judges, as well as their partners and survivors. For more information, visit our How to become a member page!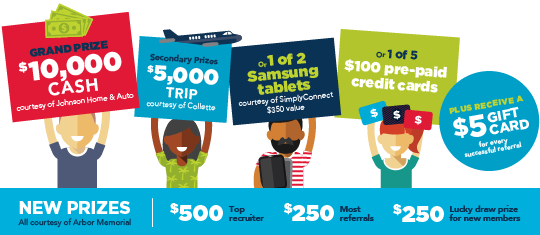 Contest period: Sept. 1, 2020, to Dec. 31, 2020
There is no better recruitment resource we have than you, our members. The Mega Recruitment Drive aims to recognize and reward the invaluable recruitment efforts of our dedicated members.

Good luck and happy recruiting!