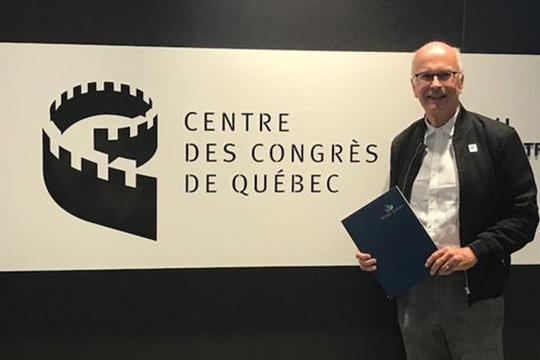 Serge Boisseau,2nd  VP of the Quebec Branch – representing the six Quebec branches
Prepared with notes from Micheline Lefrançois, Interim Advocacy Program Officer for Quebec
At the meeting of the House of Commons Standing Committee on Finance in Quebec City on October 3, Mr. Serge Boisseau, 2nd Vice-President of the Quebec Branch of the National Association of Federal Retirees, representing the six Quebec branches, made the following recommendation to the committee members:
THAT the government help Canadians to:
improve retirement security
keep promises made to retirees when pension plans are amended
continue to improve Canada's pension income and income security for Canadians.
Mr. Boisseau suggested that a first step in this direction would be the immediate withdrawal of Bill C-27, an act to ament the Pension Benefits Standards Act, which would create a target benefit plan. The defined benefit pension plan is the most effective way to ensure the retirement security of Canadians.
Mr. Boisseau had personal exchanges with members of the committee, notably MP Leona Alleslev of Aurora-OakRidges-Richmond Hill and the Vice-Chair of the committee, MP Peter Julian of New Westminster-Burnaby. He took the opportunity to give them a pin with our Association logo.
The Canadian roadshow of the House of Commons Standing Committee on Finance stopped in Quebec City on October 3 at the Quebec City Convention Centre to hear individuals and groups present their priorities for the budget.    
Other stakeholders who presented briefs at this public hearing included the Association pour la recherche au collégial (College Research Association), the Confédération des syndicats nationaux (Confederation of National Trade Unions), la Chambre de commerce et de l'industrie (Chamber of Commerce and Industry), les Centres collégiaux de transfert de technologie (College Centres for Technology Transfer) and the Union des producteurs agricoles (Union of Farm Producers).
This public hearing allowed Federal Retirees to raise awareness of our National Association in the province of Quebec and its priorities.