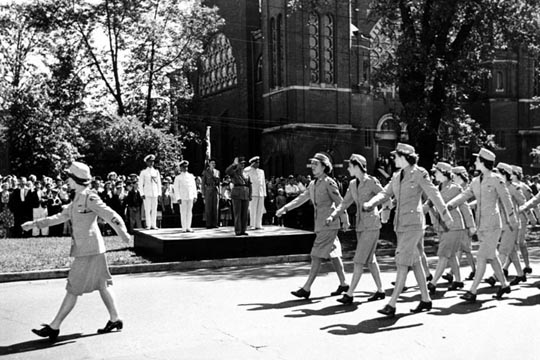 Canadian Women's Army Corps take part in Toronto's official V-J Day ceremony marking the end of the Second World War in August 1945. Photo: City of Toronto Archives (Fonds 1667, Item 2)
 
Every year, November 5 to 11 is Veterans' Week, an opportunity for Canadians to honour the extraordinary efforts and sacrifices of our veterans. Remembrance Day, November 11, marks the final day of Veterans' Week and recalls the end of hostilities during the First World War on that date in 1918. At the eleventh hour of the eleventh day of the eleventh month, Canadians gather wherever they are and observe a moment of silence to remember those who have fallen in the line of duty and to recognize their service to our country.
This year the Government of Canada is observing the 75th anniversary of the end of the Second World War. After almost six long years of fighting, the Second World War finally came to an end on Aug. 15, 1945, when Japanese forces surrendered in Asia and the Pacific.
Our veterans served Canada — and were willing to risk their lives to do so. Now it's Canada's turn to support veterans of the Canadian Armed Forces and the Royal Canadian Mounted Police.
We asked, and will continue to ask, the government to ensure that veterans and their loved ones have the well-being, care and benefits they deserve. In particular, we are seeking:
Achieve equitable outcomes for serving military and veteran women
Ensure a seamless, supported, successful transition and release from service
Ensure ill and injured veterans and their informal caregivers are supported
Ensure timely and transparent assessments and reassessments for veterans
Rebuild institutional trust with veterans by improving outcomes and communications
For more information, visit our advocacy priorities page for veterans' issues.


Torontonians gather in droves at Old City Hall to celebrate V-J Day. Photo: City of Toronto Archives (Fonds 1667, Item 8)
 
We owe it to our veterans to speak about them, to share their stories, to honour their sacrifices and to keep their memories alive. Use your voice to raise awareness of veterans' issues and remembrance, and to join the conversation on social media.

Facebook
On Facebook, use our posts and download our shareable image to raise awareness of Veterans' Week. Be sure to visit Federal Retirees on Facebook to share our posts and keep up to date on our work!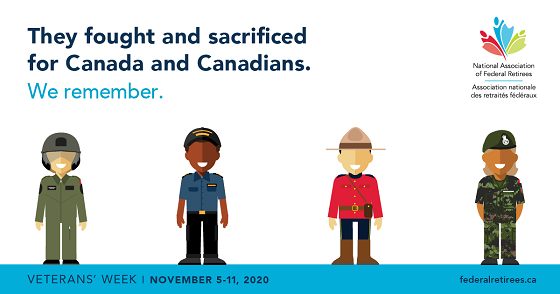 Download our Veterans' Week image and share it with your Facebook community!
Remembrance is our duty as Canadians during Veterans' Week, November 5-11, and all year. We remember your service and sacrifice.
To our veterans and their families, thank you for answering the call to serve, and for making Canada and the world a better place to live.

Twitter
On Twitter, use the hashtag #CanadaRemembers to join the conversation, share our sample posts and images below and follow @fedretirees to share our posts with your networks.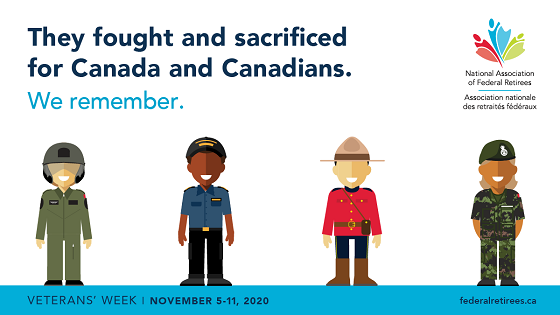 Download our Veteran's Week image and share it with your Twitter community!
Remembrance is our duty as Canadians during #VeteransWeek, November 5-11, and all year. #CanadaRemembers
To our #veterans and their families, thank you for answering the call to serve, and for making Canada and the world a better place to live. #CanadaRemembers
 
Across the country, Canadians are finding creative ways to honour veterans that respect local public health recommendations. Our Veterans' Week poster can be hung in windows and shared online to support remembrance. Do you know any little ones who are handy with a crayon? Share this poster with them as a fun colouring activity!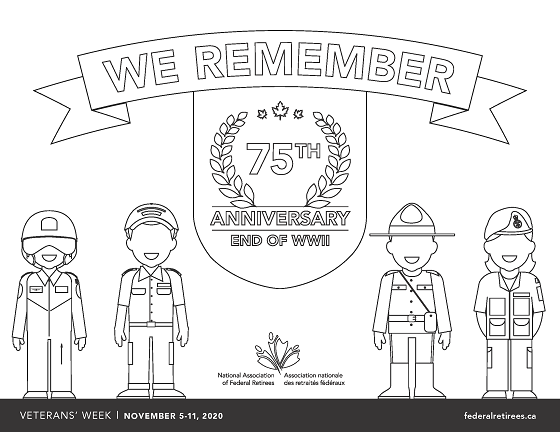 Download and print our Veterans' Week poster.
We hope you'll share your amazing posters with us too. If you add your creative touch to our Veterans' Week poster, be sure to participate in our colouring contest! Everyone, whether young or young at heart, who colours our poster and sends a photo to us (through Facebook messenger or by email to service@federalretirees.ca) will be entered into a draw for a chance to win a $100 pre-paid credit card. Plus, your excellent artwork could appear on our social media channels, website or in Sage magazine! The contest closes at 11:59 p.m. EST on Nov. 11, so don't delay.
Veterans Affairs Canada
As Canadians do their part to limit the spread of COVID-19, most in-person gatherings are cancelled this year but there are still many ways we can come together for Veterans' Week. Visit the VAC calendar of upcoming events to learn more about online events and digital activities that you can take part in. VAC also offers a wealth of historical information and educational resources along with podcasts, interviews, articles and videos highlighting the personal stories of Canadian veterans.
 
If you have young family – children or grandchildren – don't miss this opportunity to introduce them to the concept of remembrance and promote active learning. Veterans Affairs Canada offers a collection of free learning resources for all age ranges such as the Take Time to Remember activity book.
 
The Royal Canadian Legion
The Legion has announced that this year's ceremony on Nov. 11 will be much smaller than usual and, for the first time, spectators will be discouraged from attending in person. Instead, Canadians are encouraged to view the ceremony from home as the Legion will be streaming the event through Facebook Live.
This year, the Legion will be conducting its popular National Poppy Campaign beginning on Oct. 30, 2020, which directly supports Canadian veterans and their families. The Legion has also invited Canadians to submit photos as part of its Virtual Wall of Honour to recognize deceased veterans.