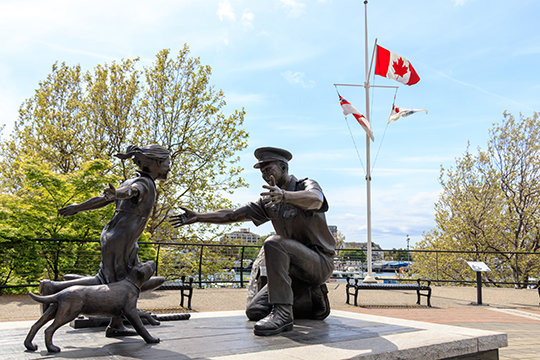 1. How do we help Veterans achieve well-being?
Veterans Affairs has established a set of domains of well-being that must be addressed to ensure that Veterans have well-being. They include: employment or other meaningful activity to ensure they are engaged in activities they find beneficial and meaningful, that they are financially secure, functioning well physically, mentally, socially and spiritually, are able to adapt manage and cope within civilian life, that they are in mutually supportive relationships and engaged in community, they are living in safe, adequate and affordable housing and are understood and valued by Canadians. Right now, this isn't being consistently achieved for all veterans.
2. What are the health issues associated with transition to civilian life?
When leaving due to medical reasons, the information and processes can be overwhelming. Transferring to "civilian" medical systems can get complicated, especially if service-related medical records are incomplete or missing. Along with long waits and difficulty finding family doctors, these challenges impact veterans' ability to complete some forms required by VAC to access their benefits and services – creating delays in accessing care and programs, a great deal of paperwork and procedural hang-ups, and uncertainty when veterans and their support folks are least able to cope with it all.
On the health front, often because of their service, veterans are less likely than the general population to rate their health as very good/excellent, and they have a much higher prevalence of chronic pain, musculoskeletal disorders, hearing problems and mental health concerns, too.
According to Veterans Affairs, veterans who return to work are much more likely than other working Canadians to report long-term physical or mental health conditions or a health-related activity limitation at work (35% vs 13%).
For former RCMP members, missing or incomplete medical documentation is an issue and causes problems in obtaining supports and services from Veterans Affairs Canada later.
3. What are the financial issues associated with transition to civilian life?
There are concerns with slow processing and persistent delays in pension and benefits – including delays in first pension payment. In our consultations, veterans reported frustration with late, absent or conflicting information, and with requirements for multiple assessments and re-assessments for access to new financial programs and re-worked existing programs.
Also, regardless of how it's advertised – the Pension for Life that has been announced and implemented recently, is not the same pension that veterans once knew. According to research from the Parliamentary Budget Officer, nearly all clients of Veterans Affairs would be better off if they were to receive benefits under the old Pension Act.
It is estimated the value of lifetime costs of Veterans Benefits plummeted after the implementation of the Canadian Forces Members and Veterans Re-establishment and Compensation Act (also known as the New Veterans Charter, later renamed the Veterans Well-being Act), which replaced the Pension Act in 2006, from $50-billion to $29-billion.The new Pension for Life regime increases that cost to $32-billion. While many will be better off under the new Pension for Life option versus the Veterans Well-being Act, about 5 per cent of future disabled recipients would have been better off under the "Veterans Well-being Act" (with 3 per cent of new entrants being greatly disadvantaged) because of the elimination of the Career Impact Allowance.
4. What do you mean by, "rebuilding trust"?
Many veterans have had their trust and confidence challenged by repeated procedural difficulties and poor treatment and have a low level of trust in Veterans Affairs Canada as a result. Whether you were a veteran forced to take your own government to court for earned benefits or healing from military sexual trauma, broken trust in the chain of command and in our government is felt by some of today's veterans. A few examples of how and why veterans' trust in government has been shaken include an "accounting error" announced in 2018 caused more than 270,000 veterans to be shortchanged on pensions and disability payments for more than a decade. Numerous changes to the Minister for Veterans Affairs and payment errors compound this lack of confidence in the system veterans rely on. The government and Veterans Affairs must make efforts to rebuild trust, to reconnect with veterans and ensure that they have the well-being, care and benefits they deserve.
5. Why are we focusing on veterans who are women?
Women make up 15% of the Canadian Armed Forces and face unique challenges that must be addressed. Some of those issues are due to the fact that veteran-focused programs and policies have historically been built to meet the needs of the traditional veterans' population – for the most part, married men. In general, medically released and female members experienced the largest reductions in income. According to well-being indicators, female veterans are worse off compared to male veterans in terms of adjustment to civilian life, disability, and income, while they are also worse off than females in the general public in terms of self-rated health (both mental and physical), satisfaction with life, sense of belonging, and see an increase in rates of suicide. This will become more of an issue for the veterans community at large as the CAF focuses on recruitment and retention of women, with a goal to increase the number of women personnel by 1 per cent annually, with a target of reaching 25 per cent by 2026.