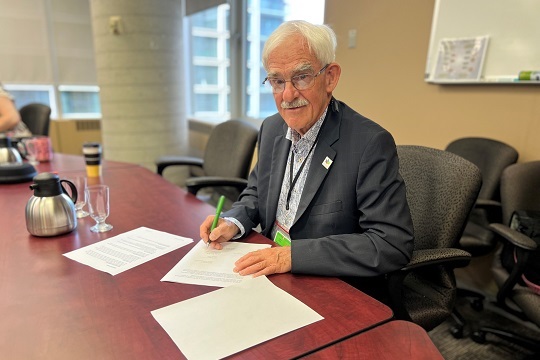 After challenging negotiations, Federal Retirees president Roy Goodall signs a PSHCP deal that directly reflects our members' priorities.
 
On Aug. 3, 2022, following more than 2 1/2 years of negotiations, the Public Service Health Care Plan (PSHCP) Partners Committee reached a deal on a renewed, modernized PSHCP.
The deal will see meaningful enhancements and improvements across nearly every benefit category and will take effect July 1, 2023, when Canada Life takes over from Sunlife as the plan administrator. The terms of the agreement are subject to approval by the Treasury Board, which is anticipated over the coming weeks.
"We know it's difficult to wait a little longer for Treasury Board to approve this and for these enhancements to be available," says the Association's CEO Anthony Pizzino. "At the same time, we are very proud that the enhancements we have gained respond directly to our members' primary concerns, when we surveyed them on the PSHCP in 2017."
In 2017, the Association surveyed nearly 19,000 members and received more than 8,500 responses. When asked for their top priorities for PSHCP improvements, members said vision care, eliminating restrictions to accessing physiotherapy and massage therapy, better paramedical and hearing aid coverage, improvements to hospital coverage and emergency travel benefit enhancements were most important to them.
Key PSHCP gains that will help pensioners save money and achieve better health and well-being goals include:
Increasing vision care from $275 every two years to $400 every two years.
Increasing amounts for massage, osteopath, naturopath, chiropodist/podiatrist from $300 per year to $500 per year.
Increasing coverage for hearing aids from $1,000 per five years to $1,500 and introducing a new benefit to cover hearing aid batteries (up to $200 per year).
Removing the requirement for prescriptions for services like massage, physiotherapy, psychological services and speech therapy.
Removing the physiotherapy member-paid corridor and introducing a maximum of $1,500 per year for physiotherapy.
Improving acupuncture coverage by removing the restriction to have it performed by a physician and increasing that coverage from $300 per year to $500 per year.
Allowing foot care performed at community nursing stations to be covered under the podiatrist/chiropodist benefit.
Improving the Emergency Benefit While Travelling by moving coverage from $500,000 to $1 million and increasing family assistance benefits.
Increasing the Hospital Level I coverage from $60 per day to $90 per day and increasing Levels II and III to $170 and $250 respectively.
Establishing important coverage for people living with diabetes, including increasing coverage up to $1,000 per 60 months for insulin jet injector devices, introducing coverage for diabetic monitors without the use of an insulin pump (up to $700 per 60 months), introducing coverage for Type II diabetes testing supplies such as flash glucose supplies and testing strips ($3,000 per year) and introducing coverage for continuous glucose monitor supplies for Type I diabetes ($3,000 per year).
Introducing coverage for injectable lubricants such as Synvisc to treat joint pain and arthritis at $600 per year.
The Association also realized an important gain for low-income pensioners. Pensioners who retire between April 2015 and March 2025 will be eligible for the low-income pensioner relief provision, provided they meet the low-income threshold requirement. Under the PSHCP terms that were implemented in 2013, pensioners with low income who retired after April 2015 were not able to access the relief provision.
Barriers affecting access to health care and equipment have also been addressed. The requirement for walkers and wheelchairs to be used inside the plan member's private residence will be removed, and new wheelchair claims will be permitted within the existing five-year time limit when a plan member's condition has changed and requires a new chair.
Other additions to the plan include increasing nursing services to $20,000 per year, adding gender affirmation coverage with a lifetime maximum of $75,000, laser eye surgery coverage at a lifetime maximum of $2,000 and significant gains on mental health coverage. Plan members will be eligible to claim up to $5,000 per year on mental health services. Prescriptions will no longer be required for mental health services, and mental health coverage has also been expanded to include psychotherapists, social workers and registered counsellors, two measures implemented during the COVID-19 pandemic that will become permanent.
"Pensioner representatives Jean-Guy Soulière and Roy Goodall, with day-to-day negotiations and technical expertise from our advocacy director Sayward Montague and health officer Jessica Searson, approached these negotiations with tenacity," notes Pizzino. "There were times these discussions were so challenging that a deal seemed out of reach altogether — but with persistence, professionalism and a commitment to members' priorities, we arrived at a deal that is not only fair but also supports the financial health of the PSHCP and delivers what pensioners asked for."
In advance of the deal's implementation in July 2023, plan members should begin to prepare themselves for some important changes. These new measures will help the plan manage costs and will allow the plan to respond to a shifting landscape of rapidly escalating drug costs. New measures that will be put in place include:
A prior authorization program, which will require pre-approval for coverage for specialty or high-cost drugs such as biologic or biosimilar drugs. This type of program helps ensure plan members are being optimally treated with clinically and cost-effective treatments, when it comes to drugs that can cost tens of thousands of dollars — or more — per year. More details on what this program will mean for members who use biologic or biosimilar drugs, including how to navigate and prepare for the changes, will be shared over the coming months.
Mandatory generic substitution, with a 180-day transition period and a process to allow exceptions to continue to receive coverage for brand-name drugs based on medical need. More than 70 percent of pensioners already use generic drugs.
Reimbursement of pharmacists' dispensing fees for maintenance drugs, up to a maximum of five times per year (with exceptions for safety and storage considerations and for any drug where the plan member's co-payment exceeds $100 for a three-month supply). This measure is intended to encourage plan members to fill regular maintenance prescriptions at a three-month interval and will help deliver significant savings that are otherwise sunk into excess or unnecessary pharmacy dispensing fees.
Limited reimbursement of pharmacists' dispensing fees, up to $8 per fee (with exceptions for compounded drugs and biologic drugs). In some provinces, dispensing fees for older adults are capped or offset by government programs. To help members make the most of the dispensing fee that is covered by the plan, the plan will explore the possibility of a preferred pharmacy network – and members should always shop around to find pharmacies with reasonable dispensing fees.
Compound drugs will require at least one ingredient to have a drug identification number (DIN) to be eligible for reimbursement under the plan.
The out-of-pocket maximum for catastrophic drug coverage will increase moderately, from $3,000 to $3,500.
These measures may change how you and your care providers approach prescriptions, and some plan members will have questions and need help navigating these plan changes when they come into effect in July 2023. Members should rest assured that these changes will be communicated clearly and with advance notice, and that all plan members will be able to access support and assistance when these measures are implemented in July 2023.
In the interim, the temporary measures implemented in response to the COVID-19 pandemic, specifically mental health improvements and removing the requirement for prescriptions for some services, will continue to be available to plan members and will be made permanent when the deal is fully implemented in 2023.