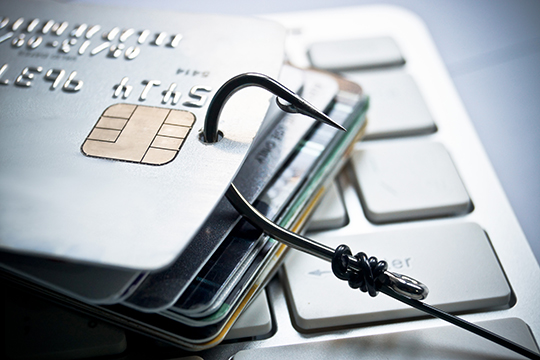 Email phishing scams try to trick you into opening attachments or giving up personal information.
March is Fraud Prevention Month, an annual campaign that seeks to help Canadians recognize fraudulent behaviour and learn how to protect themselves from it.

Unfortunately, there are many ongoing scams aimed at senior Canadians and, though no one is immune to fraud, seniors are more frequently targeted. As the Government of Canada points out, "fraud is the number one crime against older Canadians."

The best way to ensure you and your loved ones are protected is to learn to recognize the signs of fraud and what to do if you've been targeted. The Canadian Anti-Fraud Centre, which is a joint venture maintained by the RCMP and the Competition Bureau of Canada, has published a website and accompanying PDF booklet called The Little Black Book of Scams, now in its second edition. This booklet is an excellent resource that is jam-packed with information about recognizing and reporting scams. In honour of Fraud Prevention Month, they've even prepared a quick quiz to assess your knowledge and help you fill in any gaps. 
 
If you've been victimized
There are many different types of fraud from identity theft to spam emails, but generally you'll want to follow these steps.
  
Gather the evidence and keep it in a safe place in case it is needed later. Evidence could include documents like bills or brochures as well as receipts, emails, online messages, text messages, cancelled cheques and first-hand notes.
Report it to your local law enforcement so they are aware of scams going on in their jurisdiction.
Contact the Canadian Anti-Fraud Centre about fraudulent or suspicious activity by visiting it online or by calling 1-888-495-8501. Likewise, if you recognize misleading marketing practices, the Competition Bureau can be notified by filling out its online complaint form or by telephone at 1-800-348-5358.
Reach out to your financial institution and, if you are a victim of identity theft, place a fraud alert with the national credit bureaus, Equifax and TransUnion.
If the fraud took place online through a social media platform, e-commerce website or dating website, make sure to report the incident directly to that website. Most have online tools to do this often labelled "report abuse" or, if you're unsure, contact the website's help centre.
Be proactive moving forward. Change your passwords, continue to monitor bank and credit card statements and be sure to report any irregularities to the proper authorities.
At any time, if you feel something is off and you think you may be getting scammed, don't hesitate to contact the Canadian Anti-Fraud Centre to discuss your situation. When it comes down to it, all fraudulent activity should be reported even if you feel ashamed or worry that the amount of money in question is too little. You can help catch those fraudsters and keep them from victimizing others.