EDMONTON BRANCH HOSTS PUBLIC SERVICE PENSION PLAN INFORMATION SESSIONS
Edmonton Branch of the National Association of Federal Retirees (NAFR) hosted two Information Sessions about the Public Service Pension Plan. The sessions also included information about the benefits for current public servants of becoming members of NAFR while they are still working. Both sessions were free of charge to the registered attendees, with all costs borne by the Branch. Our goal was to recruit new members from current federal employees.
Only one session was originally planned.  49 Actively serving federal public servants attended on January 19, 2019. Due to an overwhelming response, a second session was held on February 2, 2019, attended by an additional 51 public servants. With as many as 80 names still on a waiting list, additional sessions are being considered.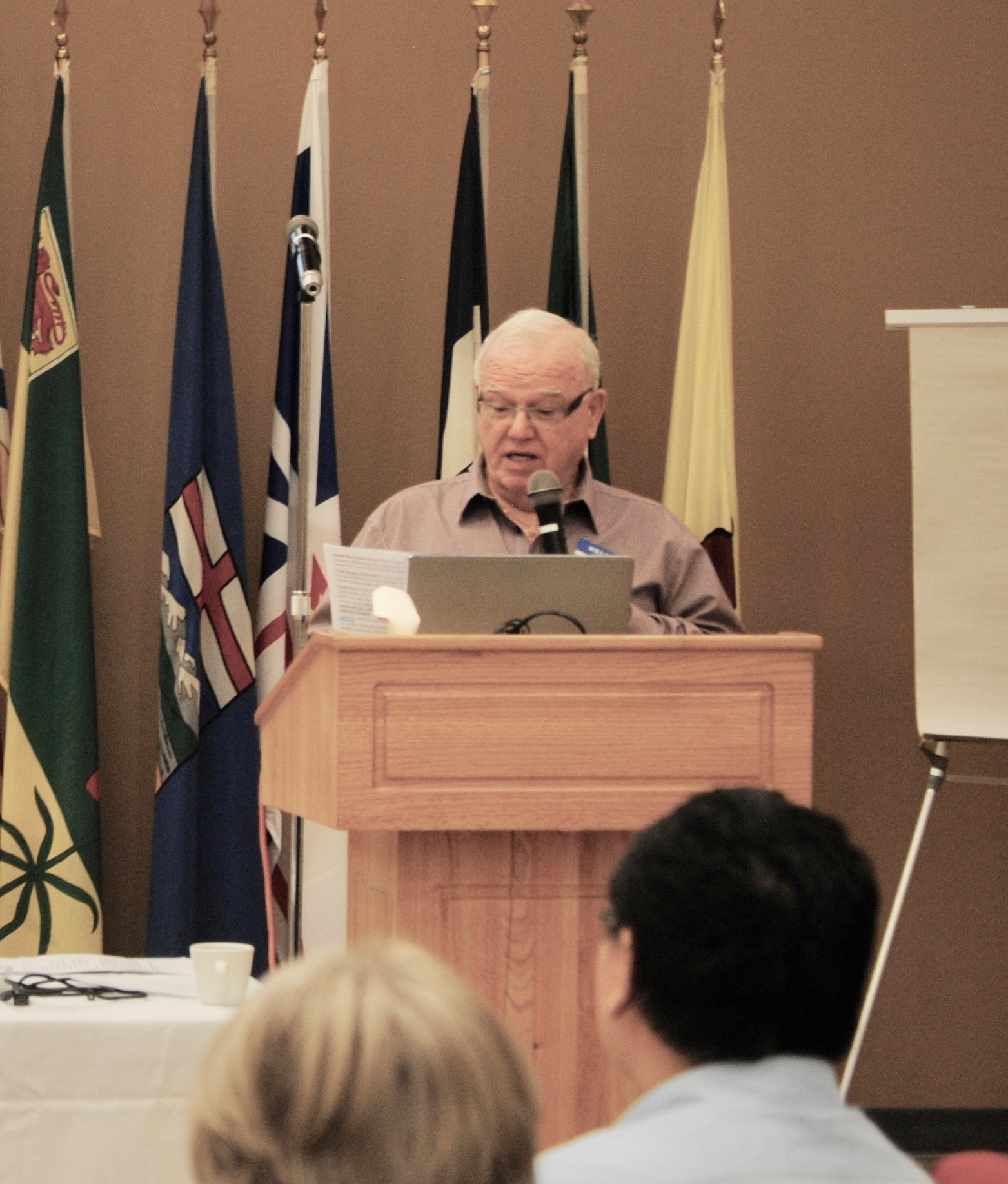 Ross Gillespie, NAFR Edmonton Branch President
INTRODUCING NAFR
Each of the sessions opened with a presentation by Ross Gillespie, Edmonton Branch President, about the purpose of the Association and the benefits available to members. He discussed the advocacy role of the association, including the protection of pensions and benefits of Federal Retirees, and promoting a healthy and dignified lifestyle for all seniors. Ross stressed that they need not wait until retirement to join the Association. As long as they were members of the Public Service Pension Plan, they were eligible to join NAFR and have access to the many benefits provided by NAFR membership, including those provided by our affinity partners. As members of NAFR, they would be strengthening our voice and supporting our advocacy, and other objectives of the organization. He cited a number of past advocacy successes that benefit both current and future Federal Retirees, as well as seniors in general. He also outlined advocacy efforts currently underway.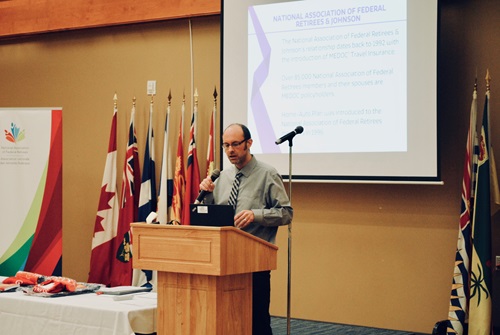 ​
Matthew Kukotello, Johnson Inc.
PREFERRED PARTNER INFORMATION
 Following Ross's presentation, Matthew Kukotello of Johnson Inc. gave a presentation about Johnson's Medoc Travel Insurance plan available exclusively to NAFR Members. Medoc works with the Public Service Health Care Plan to provide greatly expanded travel insurance to NAFR members at a reasonable cost.  
Medoc is the most highly used benefit, but it is only one of the many Preferred Partner programs available to NAFR Members.  Also in attendance with information booths and donating prizes were representatives from Hearing Life Canada and Arbor Memorial.  Relocation Services and Good Life Fitness also sent information and donated prizes.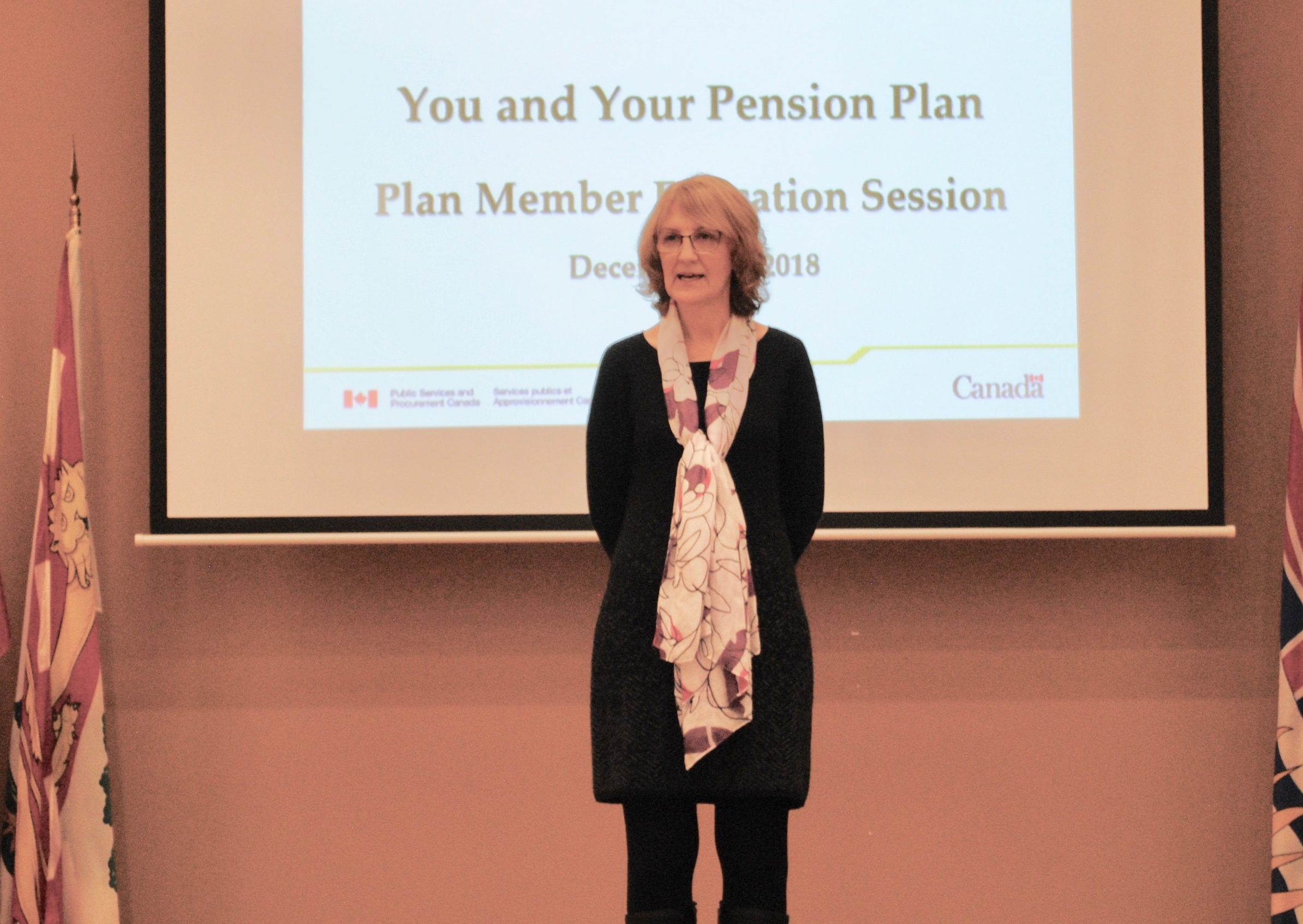 Melody Walz, Presenter for the Pubic Service Pension Plan
PUBLIC SERVICE PENSION PLAN
Melody Walz, Certified Presenter of the Public Service Pension Plan gave an in-depth presentation on the Public Service Pension Plan, covering topics ranging from the Pension and Benefits Website, Supplementary Death Benefit, the impact of Leave Without Pay, Indexing, Bridge Benefit, and Service Buybacks. She also discusses Survivor Benefits, Group Insurance Benefits and Services and information.  Attendees learned how to access information about their pension from the Pension office, and what information was available to them. Throughout the session, Melody fielded many questions from the audience. During lunch break and after the session ended, she responded to individual concerns.
ATTENDEES RESPONSE TO THE SESSIONS
Almost all attendees completed survey forms showing overwhelming approval of the sessions. Most attendees were not aware that they were eligible for membership in NAFR, and many indicated they were now considering membership.  
These were two highly successful events.  Because of the overwhelming response, the Branch will conduct a cost/ benefits analysis before deciding whether to host future sessions.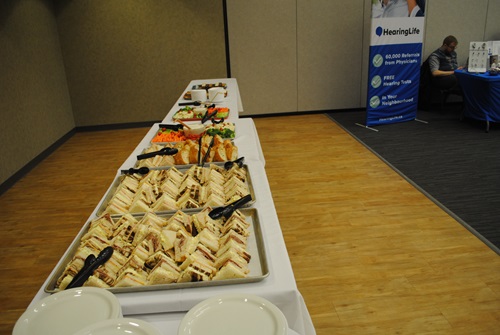 ​
Lunch Served to Attendees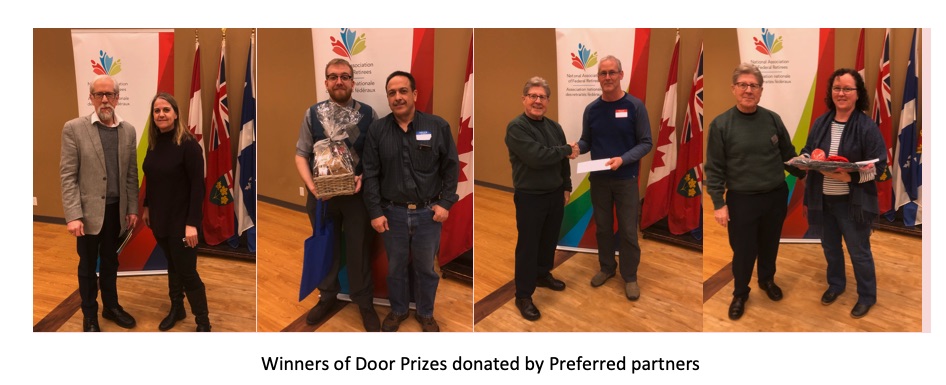 ​