On the 17th and 18th of Sep 2019, the annual liaison visit to our Grande Prairie members and potential members was conducted by our branch volunteers Brian Emdin and Dave Riffel.
Enroute to Grande Prairie, Dave and Brian stopped briefy on Mayerthorpe to see the monument honouring the memory of the "Fallen Four " — the four RCMP officers who died in the line of duty March 3, 2005.  Edmonton Branch is pleased to have contributed financially to the construction of this memorial.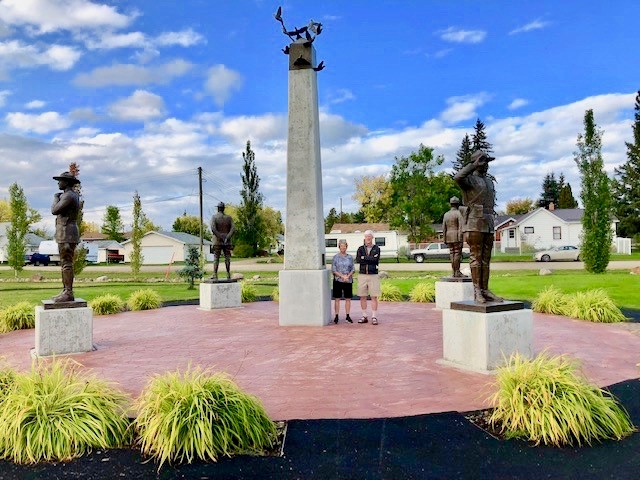 The Grande Prairie meeting was attended by 45 people. Many thanks to Janet Kerr, our representative in Grande Prairie, who works tirelessly each year to organize this event. She makes many calls to ensure a good turnout. This year every person who committed to attend showed up.
This is a tribute to Janet and an indication of the high degree of interest in our association. Some members travel a couple of hours to attend.
Thanks to Dave Riffel, who volunteered to come along and "keep Brian company".  Dave emceed the meeting, presented the majority of the information, plus he recruited four new members.
Thanks to Dave, Brian, and Janet for this successful event.
Thank you to the Grande Prairie region members for your commitment.